Embracing Nature's Creativity with Bohemian and Hippie Style Beach Patio Lounge
The beach patio lounge is a unique space where the carefree spirit of Bohemian and Hippie styles intertwines with the serene beauty of coastal landscapes. Inspired by the love for art, nature, and freedom, the Bohemian and Hippie aesthetics create an inviting and artistic ambiance perfect for unwinding and connecting with the beach's natural surroundings. In this comprehensive post, we will explore design and decor ideas that will help you transform your beach patio lounge into a haven of creativity and relaxation, where the sound of crashing waves and the gentle sea breeze blend harmoniously with artistic expression. Creating a Bohemian and Hippie style beach patio lounge is all about blending a carefree and artistic ambiance with a deep connection to nature. These design and decor ideas will help you achieve a laid-back, eclectic, and inviting outdoor space where you can relax, unwind, and embrace the beachy vibes.
Celebrating Low Seating Arrangements:
At the heart of the Bohemian and Hippie style lies the idea of communal living and meaningful interactions. Embrace this concept in your beach patio lounge by incorporating low seating arrangements. Instead of traditional chairs and sofas, opt for comfortable floor cushions, poufs, and plush rugs. Arrange these seats in a semi-circle or circular fashion around a central focal point, such as a fire pit or a coffee table made from reclaimed driftwood. This setup encourages a sense of togetherness, fostering intimate conversations and connections among your guests.
The Whimsy of Dreamcatchers:
Dreamcatchers, with their intricate web-like patterns and symbolic significance, add a touch of whimsy and spirituality to the beach patio lounge. Hang a variety of dreamcatchers in different sizes and colors above the seating area. As the gentle ocean breeze passes through, the dreamcatchers will sway, creating a mesmerizing and dreamy atmosphere that transports you to a world of imagination and peace.
Macramé Magic: Knots of Nature:
Channel the Bohemian and Hippie love for natural fibers and intricate craftsmanship with macramé decor. Introduce macramé elements into your beach patio lounge through plant hangers, wall hangings, and curtain tiebacks. The art of macramé brings texture and visual interest to the space, infusing it with the charm of handmade creations. The macramé designs, inspired by the beauty of nature's knots, resonate with the beach setting, creating a seamless connection between the indoors and outdoors.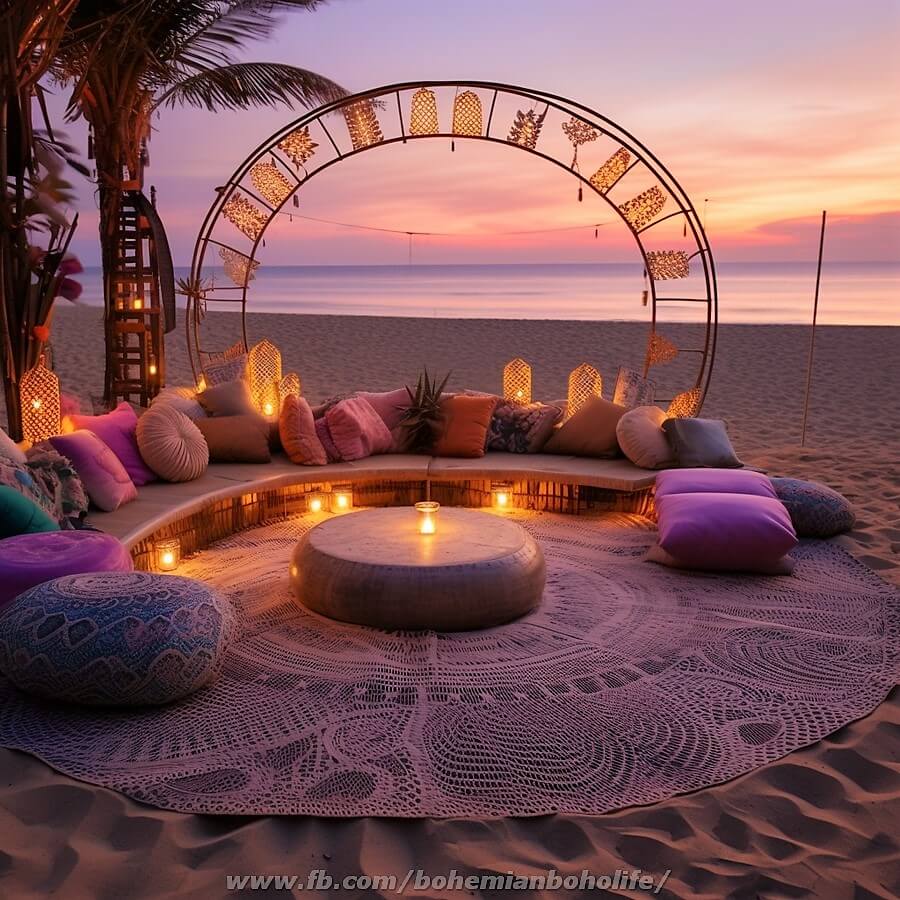 Driftwood Decor: Weathered Beauty:
The beach offers an abundance of driftwood that holds both artistic and sentimental value. Incorporate driftwood into your beach patio lounge design by creating driftwood sculptures, candle holders, and even a driftwood chandelier. The weathered appearance of driftwood aligns perfectly with the Bohemian and Hippie design philosophy, celebrating the beauty of imperfection and the passage of time.
Earthy Color Palette: Embracing Nature's Hues:
To evoke a sense of harmony with the coastal landscape, choose an earthy color palette for your beach patio lounge. Inspired by the beach and nature, opt for sandy beige, ocean blues, sun-kissed yellows, and leafy greens. These colors create a tranquil and inviting environment, reflecting the coastal elements and seamlessly blending the lounge with its surroundings.
Eclectic Textiles: Layers of Bohemian Coziness:
Textiles play a vital role in creating a Bohemian and Hippie style beach patio lounge. Layer an assortment of vibrant and patterned textiles, such as throws, blankets, and cushions, to infuse the space with comfort and artistic expression. Mix and match different textures and prints to achieve an effortlessly eclectic and boho-chic look.
Hanging Hammocks and Swing Chairs: Gentle Swings of Freedom:
Indulge in the ultimate relaxation by including hanging hammocks or swing chairs in your beach patio lounge. These comfortable and playful seating options embrace the carefree and free-spirited essence of the Hippie style. Swinging gently in the ocean breeze, you can fully immerse yourself in the beachy atmosphere, enjoying moments of serenity and joy.
Vintage Lanterns and Fairy Lights: A Magical Glow:
As the sun sets over the beach, create a magical ambiance in your patio lounge by lighting up the space with vintage lanterns, string lights, and twinkling fairy lights. The soft and warm glow of these lights adds a touch of enchantment to the surroundings, inviting you and your guests to bask in the cozy atmosphere of the beach patio lounge.
Natural Element Planters: Greening Your Sanctuary:
Incorporate natural elements into your beach patio lounge by using planters made from seagrass, rattan, or ceramic. Fill these planters with vibrant and tropical plants that thrive in coastal climates, such as palms, succulents, and hibiscus flowers. The greenery enhances the Bohemian and Hippie connection to nature while adding a touch of freshness and life to the lounge.
Boho Beach Art: Expressions of Creativity:
Art is an integral part of both Bohemian and Hippie styles, allowing for self-expression and individuality. Display Bohemian-style beach art on the walls or hanging from the patio ceiling. Choose dreamy beach landscapes, mandala art, or prints with inspiring quotes. These art pieces will not only add personality to the lounge but also inspire and uplift the spirit of all who behold them.
Vintage Surfboards: Nostalgic Beach Vibes:
If you can find vintage surfboards, use them as decorative pieces against the patio walls or as functional coffee tables. The retro charm of old surfboards adds a nostalgic touch to the beach patio lounge, celebrating the beach culture embraced by both Bohemian and Hippie styles.
Designing a Bohemian and Hippie style beach patio lounge is an opportunity to blend artistic expression with the tranquility of coastal living. By incorporating low seating arrangements, dreamcatchers, macramé decor, and driftwood elements, you can create a space that exudes a carefree and creative spirit. Embrace an earthy color palette, layer eclectic textiles, and include hanging hammocks and swing chairs for ultimate relaxation. The magical glow of vintage lanterns and fairy lights, paired with natural element planters and boho beach art, will complete the ambiance of your beach patio lounge.
Unleash your creativity and embrace the Bohemian and Hippie essence to transform your beach patio lounge into a captivating sanctuary where the artistic soul meets the soothing rhythm of the ocean. Let this space become a haven for self-expression, inspiration, and the celebration of nature's beauty. Enjoy the enchantment of your Bohemian and Hippie style beach patio lounge, where the beachy vibes and artistic flair harmoniously coexist in perfect balance.