Journey of Creativity: Inspiring Ideas for Bohemian Garden Pathways
Bohemian style gardens have gained popularity for their relaxed and artistic ambiance, providing a refreshing escape from the rigid constraints of traditional garden design. One key element that contributes to the allure of these gardens is the pathways. Bohemian style garden pathways are characterized by their organic, meandering shapes, use of natural materials, and the incorporation of whimsical elements. In this article, we will explore the enchanting world of bohemian style garden pathways, discussing their design principles, materials, and creative ideas to inspire your own unique outdoor oasis.
Embracing Organic Shapes
At the heart of bohemian style garden pathways lies an appreciation for the natural flow of the land. Unlike straight and formal walkways, bohemian paths take on organic shapes that follow the contours of the landscape. These curving pathways create a sense of adventure and intrigue, leading visitors on a journey through the garden, discovering hidden nooks and charming surprises along the way.
By embracing organic shapes, the pathways blend harmoniously with the surrounding flora, allowing the garden to feel like a living, breathing entity. Soft curves and gentle slopes encourage a leisurely stroll, inviting visitors to immerse themselves in the beauty of nature.
Materials that Echo Nature
The choice of materials for bohemian style garden pathways is critical in maintaining the garden's earthy and artistic vibe. Natural materials are the primary foundation for these paths, such as gravel, pebbles, and natural stones. Gravel pathways provide a rustic and casual feel, allowing water to permeate through and supporting a sustainable drainage system.
Pebbles, on the other hand, create a charming mosaic-like effect, with their various colors and sizes adding a touch of whimsy to the garden. Natural stones, whether flat or irregularly shaped, add a touch of elegance to the paths while celebrating the beauty of the outdoors.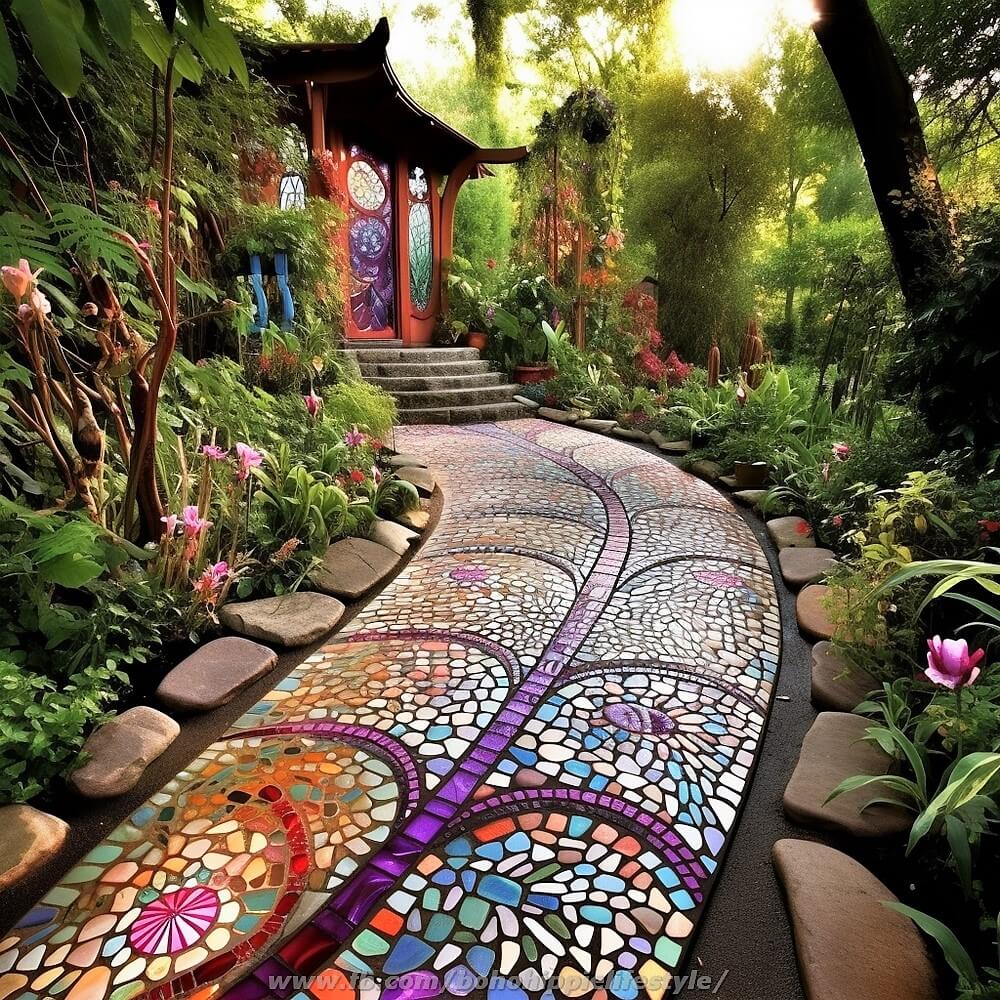 Incorporating Creative Elements
Bohemian style garden pathways offer an opportunity to infuse creativity and personality into the outdoor space. One delightful way to achieve this is by adding artistic elements along the path. For instance, strategically placed mosaic tiles or hand-painted stepping stones can bring vibrant colors and patterns to the otherwise natural-toned surroundings.
Another creative idea is to incorporate small sculptures, quirky signposts, or inspiring quotes along the pathway, encouraging a sense of wonder and contemplation as visitors traverse through the garden. Hanging lanterns, fairy lights, and wind chimes suspended from tree branches or arches can add a touch of magic, transforming the garden into a dreamy haven at dusk.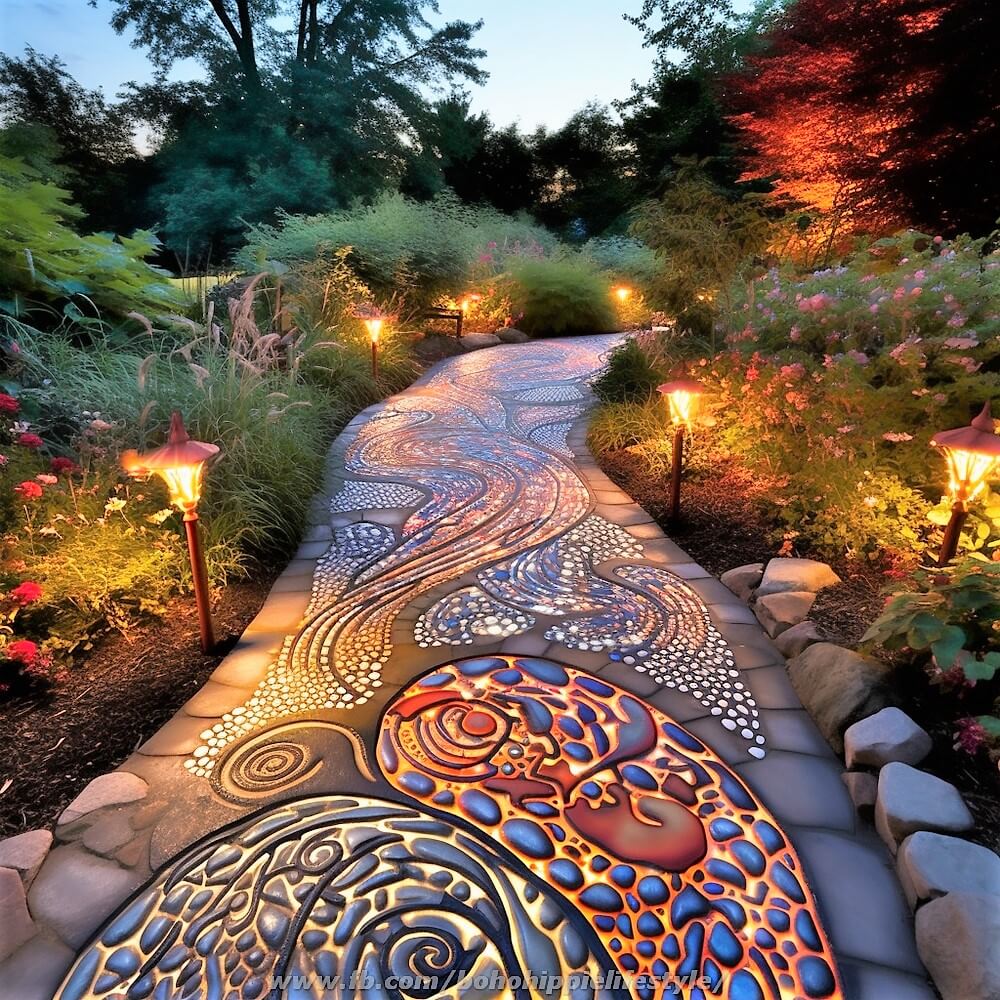 Introducing Plant Life
Bohemian style garden pathways often intertwine with the plant life, creating a seamless connection between the hardscape and the landscape. Low-growing ground covers such as thyme, creeping sedum, or creeping Jenny can be planted between stepping stones or pavers, softening the path's edges and adding a burst of greenery.
Additionally, consider using fragrant herbs like lavender or chamomile along the pathways to stimulate the senses with their delightful scents. Overhanging branches from trees and climbing plants on trellises can create an enchanting tunnel-like effect, inviting visitors to explore further.
Gaining Shade and Comfort
A bohemian style garden pathway should offer more than just a walkway; it should also provide spaces for relaxation and contemplation. Consider incorporating seating areas along the path, such as stone benches, colorful cushions, or even a hammock between two trees.
Shade is also essential, especially in hot climates, to ensure the garden remains comfortable and inviting. Planting tall shrubs or installing a pergola covered in climbing vines can create cooling pockets of shade along the path, encouraging visitors to linger and enjoy the beauty of the garden.
Water Features and Natural Elements
Bohemian style garden pathways can be further enhanced by the inclusion of water features or other natural elements. A meandering stream or a small pond adorned with water lilies can introduce a soothing and reflective quality to the garden. The gentle sound of flowing water can add a sense of tranquility and mindfulness as visitors walk through the garden.
Additionally, natural elements like large rocks, driftwood, or reclaimed materials can be integrated into the pathways to add texture and character. These elements create a sense of timelessness, as if the garden has evolved and been shaped by nature itself over the years.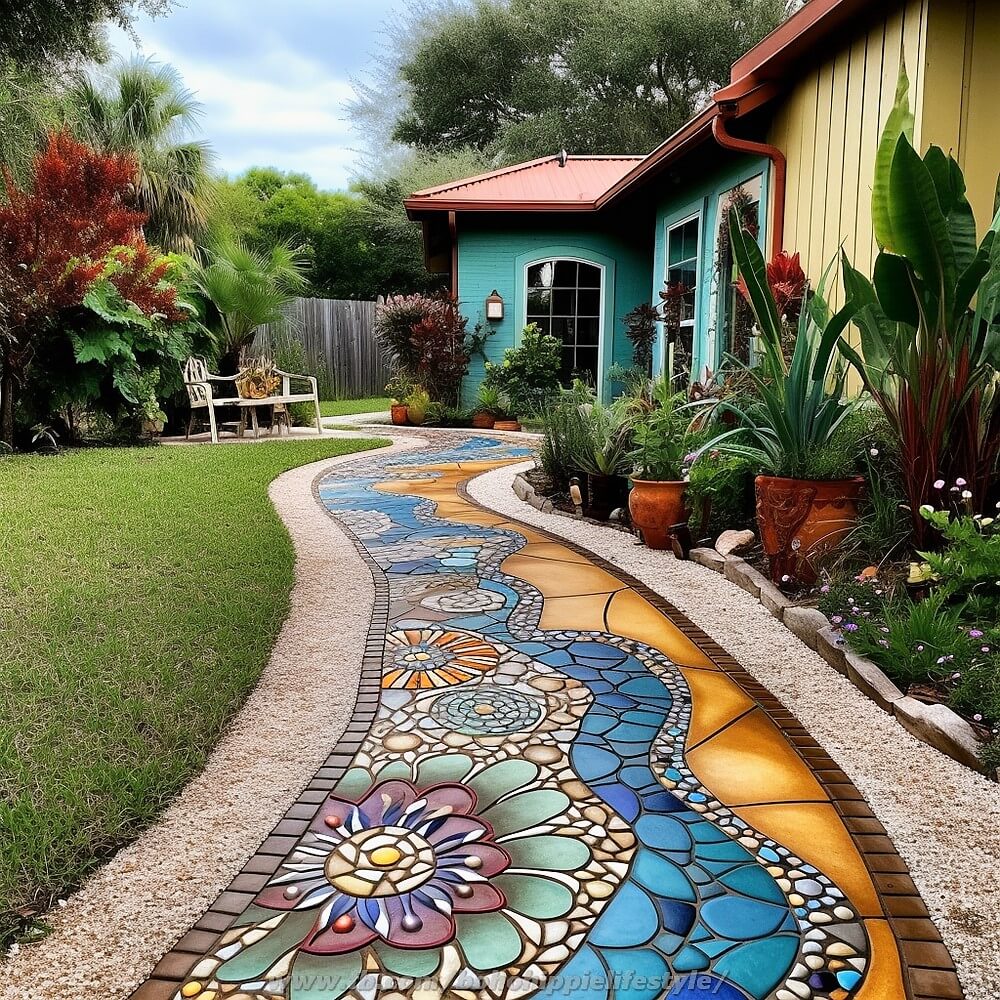 Sustainability and Eco-Friendly Practices
Embracing bohemian style garden pathways often aligns with eco-friendly practices and sustainable principles. Using permeable materials like gravel or porous pavers allows rainwater to be absorbed into the ground, reducing runoff and helping recharge groundwater.
Furthermore, incorporating native plants in the garden not only supports local biodiversity but also requires less water and maintenance, promoting an environmentally responsible approach to gardening.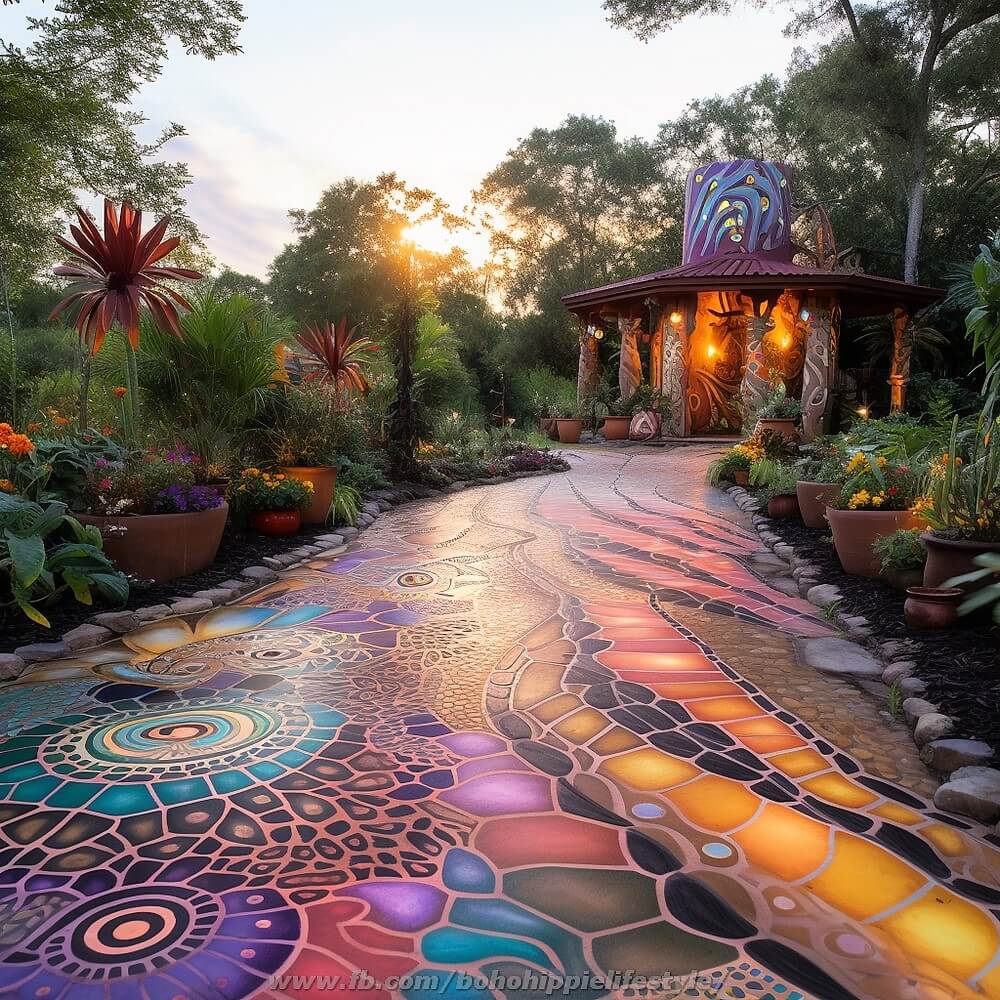 Bohemian style garden pathways offer a magical and artistic journey through the garden, celebrating the beauty of nature and the freedom of creative expression. By embracing organic shapes, using natural materials, and introducing artistic elements, these pathways invite visitors to wander and explore, fostering a deep connection with the surrounding landscape. Whether you're seeking a calming retreat or an inspiring haven, bohemian style garden pathways have the power to transform your outdoor space into an enchanting and soulful oasis. So, let your imagination run wild, and create a garden pathway that reflects your unique spirit and appreciation for the natural world.