The Floral Pergola Projects
One of the best ways to decorate the pergola is through flowers. The flowers are the most beautiful and amazing gift of nature. One feels so soothing after having a look at the fresh flowers and the scent of the flowers is just amazing. This is one of the prime reasons that I recommend the use of flowers to decorate the pergola as it will best suit the surrounding natural environment. So by decorating the pergola with the fresh flowers will have its fragrance and charm and will look to be more valuable.
Some of the flowers that you can for floral pergola project could be Purpurascens 'freckles' which is evergreen, creamy yellow which is patterned purplish red having citrus fragrance. You can also use Jingle bells which are scented creamy white colored flowers, wisely cream that is evergreen, scented with pale cream flower, roses the most beautiful flower having great fragrance, Veilchenblau with dark magenta flowers having rich orange scent. I also highly recommend some thorn less varieties to try for decorating the pergola like James Galway, snow Goose, Kathleen Harrop, zephrine Drouhin and Amadis.
In flower decoration with pergola you need to have the following supplies like step ladder, scissors, the flowers that you like to use or are easily available for decorating the pergola (you can choose any of the variety mention above), and some hanging materials. Once you have all these supplies you can work on your floral pergola project.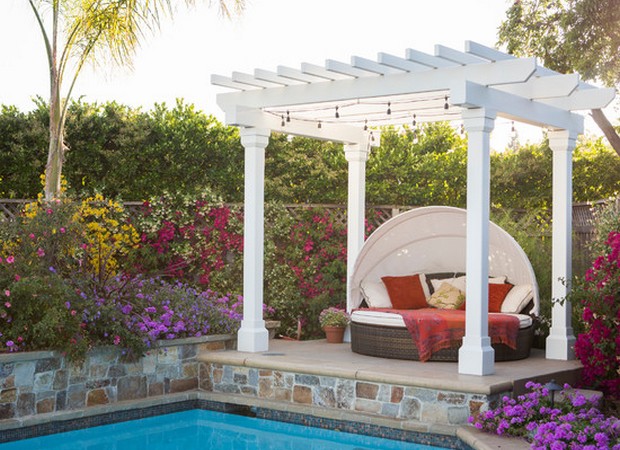 Images Via: dotawci.com / www.cellnow.net / minimalisti.com / homedepot.com / amecdes.com