Backyard Garden Pool Design Ideas With Bohemian Style Decor
Bohemian style, often referred to as boho or boho-chic, is a fashion and interior design trend that originated in the 1960s and has experienced various revivals since then. It is characterized by a free-spirited and eclectic aesthetic that draws inspiration from bohemian and hippie subcultures. Overall, bohemian style is about expressing individuality, embracing a laid-back and carefree attitude, and celebrating creativity and cultural diversity. It is a versatile and inclusive aesthetic that allows for personal interpretation and self-expression. Bohemian decor, also known as boho decor, is an eclectic and vibrant interior design style that draws inspiration from bohemian and hippie influences. It is characterized by a relaxed, free-spirited, and artistic atmosphere, incorporating a mix of colors, patterns, textures, and cultural elements.
Creating a bohemian-style backyard garden pool can be a wonderful way to infuse a relaxed and artistic atmosphere into your outdoor space.
Here are some ideas to help you achieve a bohemian vibe in your backyard pool area:
Natural and Organic Landscaping:
Surround your pool with lush greenery, including a variety of plants, trees, and flowers. Aim for a wild and untamed look, with a mix of different textures and heights. Consider adding potted plants, hanging planters, and climbing vines to create a tropical oasis.
Colorful Pool Tiles:
Choose vibrant and patterned tiles for your pool surface to add a splash of bohemian flair. Consider mosaic tiles with intricate designs or tiles in rich, jewel-toned hues. These eye-catching details can enhance the visual appeal and create a playful and artistic atmosphere.
Comfortable Seating:
Incorporate cozy seating options around your pool area. Opt for oversized floor cushions, colorful hammocks, rattan lounge chairs, or vintage-inspired wrought iron furniture with plush cushions. Layer different textiles and patterns to create a comfortable and inviting seating arrangement.
Textured and Patterned Poolside Accessories:
Bring in bohemian-inspired accessories to enhance the poolside ambiance. Consider adding patterned or fringed umbrellas for shade, vibrant Turkish towels, boho-printed pillows, and colorful throw blankets. These elements can add pops of color and texture to your outdoor space.
Macramé and Hanging Decor:
Hang macramé planters, dreamcatchers, and beaded curtains around your pool area to create a whimsical and bohemian touch. These decorative accents can add visual interest and a sense of creativity to the space.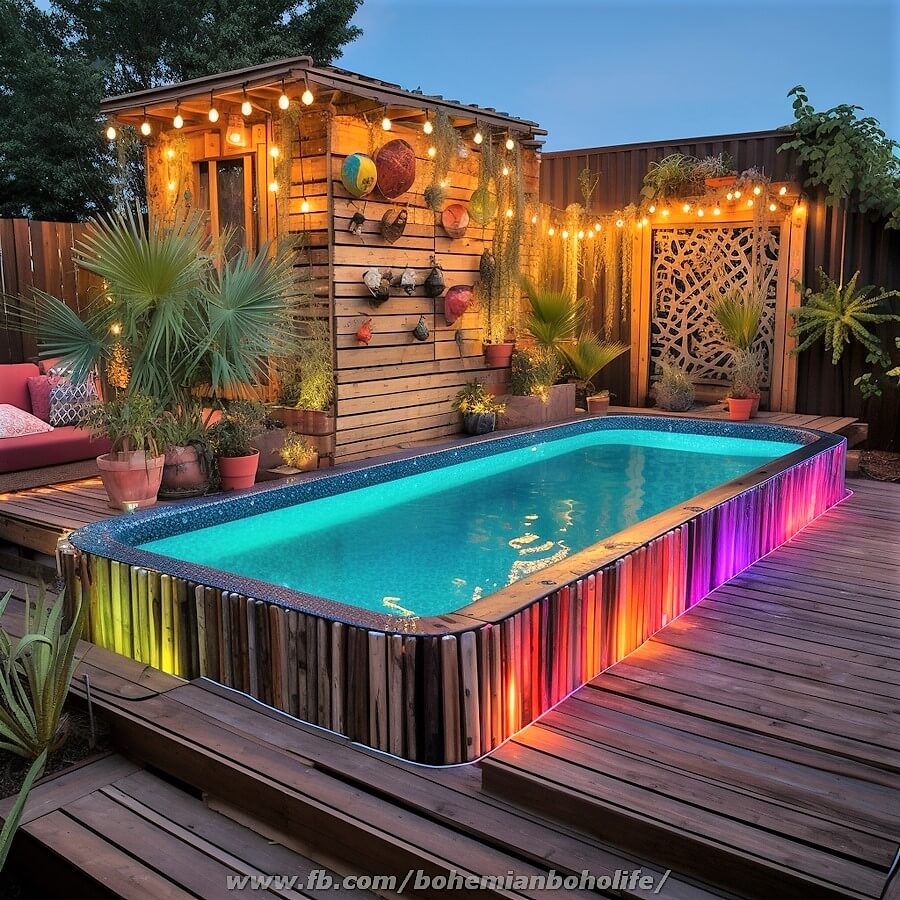 Ambient Lighting:
Install string lights, lanterns, and candles to create a warm and enchanting glow in the evenings. Use a combination of different light sources to achieve a cozy and relaxed atmosphere around your pool area.
Water Features and Artistic Elements:
Consider incorporating water features, such as cascading fountains or small ponds, to add a soothing and tranquil element to your pool space. Additionally, display artistic elements such as sculptures, mosaic wall hangings, or driftwood art to further enhance the bohemian aesthetic.
The key to creating a bohemian-style backyard garden pool is to embrace a free-spirited and artistic approach. Don't be afraid to mix and match colors, patterns, and textures, and infuse your own personal style into the space.
Creating a bohemian-style backyard garden pool can be a fun and rewarding project. While it may require some planning and effort, here are some steps to help you bring your bohemian pool oasis to life:
Design and Layout:
Start by designing the layout of your pool area. Consider the size and shape of the pool, the placement of seating and lounging areas, and any additional features you want to incorporate, such as waterfalls or planters. Take measurements and sketch out a rough plan to guide your project.
Pool Construction or Conversion:
If you don't already have a pool, you'll need to decide whether to construct one or convert an existing structure, such as an unused pond or large container. Consult with a professional or research DIY pool construction methods to ensure you have the necessary knowledge and permits, if required.
Natural Landscaping:
Create a natural and bohemian-inspired landscape around your pool. Choose a mix of plants and flowers with different textures, heights, and colors. Consider tropical plants like palm trees, ferns, and colorful blooms. Integrate rocks, pebbles, and mulch for a layered and organic look.
Colorful Pool Surface:
Add a bohemian touch to your pool by using colorful pool tiles or paint. Consider mosaic patterns or vibrant shades that match your bohemian aesthetic. Ensure that the pool surface is properly prepped and follow the manufacturer's instructions for tile installation or pool paint application.
Bohemian Seating and Lounge Area:
Create comfortable and cozy seating and lounging areas around the pool. Incorporate bohemian-style furniture like floor cushions, hammocks, or vintage rattan chairs. Mix and match textiles with patterned pillows, throw blankets, and outdoor rugs to add color and texture.
Decorative Accents:
Add bohemian accents to your pool area. Make your own macramé plant hangers or dreamcatchers using online tutorials. Create a pallet bar or outdoor tiki bar for a boho-inspired entertaining space. Consider repurposing vintage items or driftwood to create unique and artistic features.
Ambient Lighting:
Install string lights or lanterns to create a warm and inviting ambiance in the evenings. Hang fairy lights or solar-powered lanterns around the pool area. You can also use candle lanterns or floating candles in the pool for a magical touch.
Water Features and Artistic Elements:
Consider incorporating water features or artistic elements to enhance the bohemian atmosphere. Build a small cascading waterfall using rocks and a recirculating pump. Create mosaic wall hangings using broken tiles or sea glass.
Personal Touches:
Infuse your own personal style into the space by adding unique touches that reflect your interests and experiences. Display artwork, sculptures, or photographs that resonate with your bohemian aesthetic. Consider showcasing collected treasures or crafts that add a personal and eclectic touch.
To prioritize safety throughout your project, especially when it comes to pool construction and electrical installations. It's also essential to consider maintenance requirements for your pool, plants, and decor to ensure a long-lasting and enjoyable bohemian garden pool experience.