Charming Design Ideas for Gazebo Decks
A properly built gazebo is the perfect place to retreat to on hot summer days. Their open design allows the breeze to come in while the roof also provides us a feeling of privacy and plenty of cooling shade. But now the most fabulous thing we are going to offer for you is the stylish ideas of gazebo decks. In this post, you will get familiar with various unique gazebo plans created over the wooden, cemented and marble decks. We are smartly presenting various shapes of gazebo decks such as oval, rectangular, hexagonal, square, decagonal and much more. These all are brought closer to you so that you can easily choose out the best one that suits your decks. Have a look at these ideas right now.
Fascinating Design Ideas for Garden Gazebo
Here, first of all, we are bringing to you an awesome designing of the octagonal gazebo on the two-layers wooden deck. The entire outdoor seems perfect to spend wonderful time with your guest, friends and family members. This gazebo deck design will provide you a reliable relaxing place in your outdoor area.

Have a look at this elegant gazebo deck project that is artistically presented for the ornamentation of your house area. This picture shown below is simply a source of inspiration through which you will get the best idea to renovate your places in a luxurious way. This awesome plan will simply make you able to enjoy your dinners under the proper shade.

Here we came up with a much unique and attractive gazebo deck design for the beautification of your gardens. This gazebo is smartly attached to the roof of the house, while the walls are also made with hardwood slices. This is such a brilliant and elegant idea of gazebo deck to have a memorable time with your beloved one.

This is magnificent gazebo deck plan with a multi-layer wooden deck under it. The roof of the gazebo is providing a plenty of cooling shade with the entire decoration is adding charm to the whole surrounding. This hexagonal gazebo over the wooded deck seems the best option for the transformation of simple pool areas.
This amazing gazebo deck idea is designed on the second story of the house. This rounded gazebo with a clear lines wood deck giving the entire set an appealing and pleasurable feeling for the first sight as shown in the picture given below. This project is providing a covered patio for wonderful dining there. 
Now design out another unique and classic looking gazebo deck idea for your outdoors. This charming square shape gazebo with wooden fence and ground seems perfect to add attractiveness to your place. This project for sure ultimately enhances the grace of your area. Its organic wooden texture is simply appeared appealing to eyes.

This complementing gazebo deck is designed with the combination of steel and fabric material used together over the little raised wooden deck. This gazebo design will give you an extra seating space in your house entrance area so that you can easily have fun with your friends in the fresh and breath-taking environment.

Here we have an eclectic square gazebo with curved deck plan for your backyard area. This project is providing the backyard an alluring and charming look as shown out in the image below.It is quite clear that many times the presence of such an attractive gazebo has become the basic need for the beautification of some places.

Now shape out another thought-provoking gazebo deck plan for the ornamentation of your patios. This time the elegant clear lines of wooden deck with square gazebo and wooden fence all around seems a great idea to enjoy the sunset and open environment by sitting in a much attractive terrace place.

Let's implement this marvelous idea of gazebo deck at your place to enjoy the pleasure of effective and functional craft. The wonderful layered wooden deck with modern seating furniture items and fresh green plants all around the place looks exceptional to arrange gathering and parties in your outdoor.

This is the best design of gazebo deck that is set out on the wooden deck which is also comprised of beautiful incorporated lights in it. The placement of stylish and comfortable seating furniture with elegant gazebo roof appears marvelous creation to decorate your patios as according to latest housing styles.
It's time to cherish every moment of your life by sitting on this attractive place with your family. The black and bold beauty of the gazebo with the wooden texture of the deck is creating a peaceful and tidy look at the place. This craft will definitely increase the value of your house property.

This octagonal open gazebo deck plan is created to provide you a usable shaded area for your wonderful dining time. The entire setting of the gazebo over the cedar wood deck is sublime enough to add beauty and elegance to your simple and ordinary looking patios.

A perfect gazebo designing near the pool is introduced here in the picture shown below. This appealing plan has classic as well as the modern appearance that will amaze every single visitor of your house. This is one of the best gazebo deck design to enhance and reshape the boring look of our outdoors.
Adding a freestanding hexagonal gazebo over the cemented deck with built-in benches seems perfect to add elegance and charming appearance to your large garden areas. This plan will make you able to make your every single moment of your life to appear memorable for you. The entire setup of the place is letting the whole atmosphere of the garden to breathe.

Wow, have a look at the charming and elegant appearance of this gazebo plan near the pool. This breathe-taking hut shaped gazebo with lots of natural beauty and lights appears to take your heart beats for the first outlook effect. Make this plan a part of your pool area to give your outdoor a royal and luxurious look.

Obviously white color always adds charms and attractiveness to every single boring place. This gazebo deck project is smartly designed over the white marble made a deck. This gazebo deck idea will make your outdoor place look fantastic and eye-catching in the first outlook impression.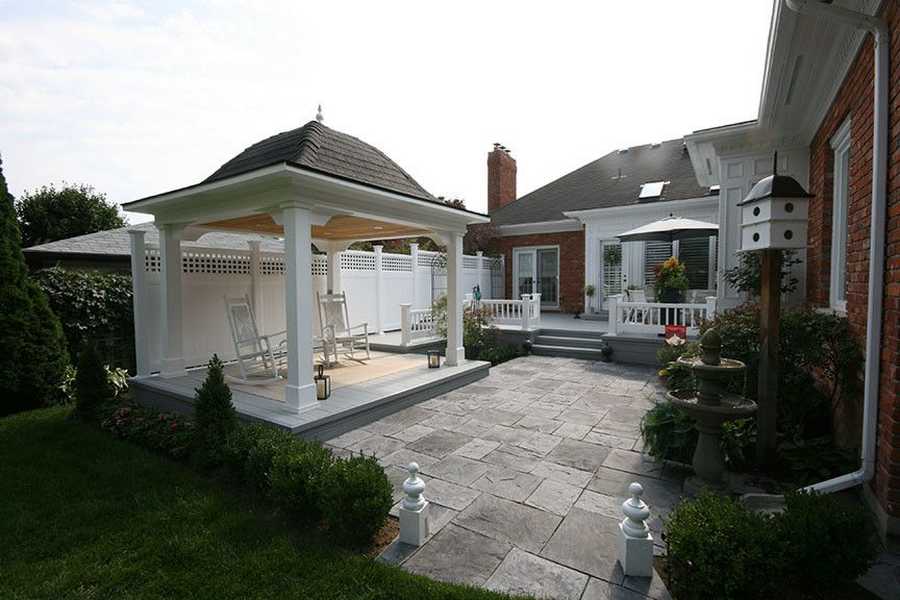 Here we are offering to you an awesome designing of rounded hardwood made gazebo over the cemented deck area. This plan will simply make you able to adore every single moment of your life by spending amazing time with your family and friends. It will attractively transform the useless backyard area of your house to a functional one.

Breathtaking Ideas for Patio Swings
Stunning Designs for Decorated Garden Landscaping