Eye Catching Ideas for Wooden Garden Decks
A wooden garden deck is a type of outdoor flooring or platform made from wood that is typically constructed in a backyard or garden area. It is often used as an extension of the living space, providing a comfortable and functional area for outdoor dining, entertaining, or simply relaxing.
There are many different design ideas for wooden garden decks, and the right design for you will depend on your personal style, budget, and the layout of your garden. Here are some popular design ideas to consider:
Multi-level deck: A multi-level deck can add depth and dimension to your garden, with separate areas for dining, entertaining, and relaxing.
Wraparound deck: A wraparound deck that follows the perimeter of your home can create a seamless transition between indoors and outdoors.
Curved deck: A curved deck can add visual interest and create a soft, organic flow to your garden.
Deck with pergola: A pergola over the deck can provide shade and a sense of enclosure, while also adding architectural interest.
Floating deck: A floating deck that appears to hover above the ground can create a modern, minimalist look.
Deck with built-in seating: Built-in seating can provide a comfortable and functional area for entertaining or relaxing, without taking up extra space.
Deck with lighting: Lighting can create a warm and inviting atmosphere for evening gatherings or simply enjoying your garden at night.
Deck with planters: Incorporating planters into your deck design can add color and texture to your garden, while also providing a sense of privacy.
These given below are just a few of the many design ideas for wooden garden decks. You can find inspiration online, in home and garden magazines, or by consulting with a professional deck builder.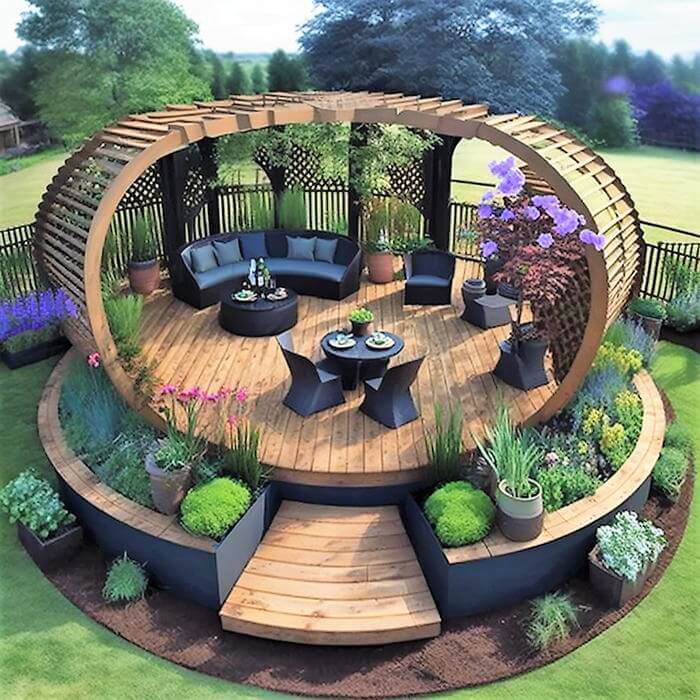 To build a wooden garden deck, you will need to follow these general steps:
Choose the location: Select a suitable spot in your garden or backyard to build the deck. The area should be level and well-drained to ensure proper water runoff.
Plan the design: Sketch out a rough design for your deck, taking into consideration the size, shape, and desired features, such as stairs, railings, and seating areas.
Gather materials: Purchase the necessary materials, including pressure-treated lumber, decking boards, screws or nails, joists, and other hardware.
Prepare the site: Clear the area and remove any obstacles, such as rocks or tree roots. Use stakes and string to mark out the perimeter of the deck.
Build the frame: Construct the frame of the deck using the pressure-treated lumber and hardware, ensuring that it is level and securely anchored to the ground.
Install the decking boards: Lay the decking boards on top of the frame, ensuring that they are evenly spaced and properly secured to the joists.
Finish the deck: Install any desired features, such as stairs, railings, and seating areas. Sand and stain the deck to protect it from the elements and improve its appearance.
Maintain the deck: Regularly clean and maintain the deck to prolong its lifespan and ensure that it remains safe and functional.
Building a wooden garden deck can be a fun and rewarding DIY project, but it can also be complex and time-consuming. If you are not comfortable undertaking the project yourself, it may be best to hire a professional contractor to ensure that the deck is built safely and to your specifications.