An arbor is a vertical structure in a landscape, patio or in a garden, that serves as an accent, provide shade and privacy as well. Its roof and walls are remained open for the growth of fresh vines plants and colorful flowers. An arbor can be free-standing, attached to fence, patios or walls. Here we have some eye-catching designs of arbors for the ornamentation and beautification of your patios. These fascinating designs will simply transform the dull appearances of your patios into an appealing and attractive place. You will get familiar with some unique arbor design, that you will definitely desire to have at your places. All patio arbors have admirable presentation so have a look at them right now!
It's a time to build a sweet entrance area for your home with this curved arbor. You can further enhance its beauty by renovated it more with white climbing roses. This patio with white fence and the white arbor is simply giving this place a royal appearance.

Here we have another useful arbor plan to make your patios a stunning place of your house. This arbor design is supported with cemented pillars while it looks more attractive to eyes with the wisteria, trumpet vines and grape vines growing on it. This place looks perfect to spend your wonderful time with your family.

Give your patio a big change, by selecting this white arbor design for it. The growing of fresh green plants, flowers, and a stone pathway is simply making this plan an ideal one for the reshaping of your patios and ornamentation of your entrance. This garden arbor design will make you fall in love with the appealing charm of this project.

Here we have a large wooden made arbor design for you that is smartly shaped out for the beautification of your simple and ordinary patios and pathways. This large arbor project is connected to each other with the use of steels slices and net material while the further designing is done with the beautiful colorful flowers and green plants.

This patio arbor plan is an example of Mediterranean partial sun project that is grounded on the concrete patio stayers. This project is smartly designed for the ornamentation of your entrance as well as to make your simple outdoor a royal looking place of your house.

This is delightful arbor design with a garden gateway. The entire designing is done with the red cedar wood, as it is comprised of a wooden fence, a gate and also fresh greeny atmosphere all around the plan. This piece of arbor designing is equally best for your backyard renovations.

This garden arbor gate and picket fence look appealing with the growth of fresh green plants on it. This patio arbor design will simply increase the beauty of your garden and will give it a unique and delightful first outlook effect that anyone will fall in love with its charming beauty.

This is another wonderful design of wooden made arbor that is designed to make your entrance more unique and attractive in it's outlook effects. If you are looking to design this plan with any other material that tries to make it more romantic with the use of classic rose arrangement on it. It will simply make this plan adorable for you.

Now design a leafy shade on your entrance and simply renovate your patio with this rustic patio arbor design. This climbing growing of leaves and plants with the organic wooden texture of the arbor plan is looking perfect to make a part of your patio right now.

This is an awesome patio arbor project that is dramatically designed with the massive timbers frames. The proportionality of using materials and a wonderful architecture is making this plan a fantastic plan for the adornment of your simple entryway. You can also design this project with the hard aluminum or steel material

An arbor can add a charming effect to your patios. The stunning arbor design will not only provide a focal point to your place but also useful in creating a proper entrance area or a privacy structure for you. This white curved arbor is just meant to provide you something exceptional to make your patio extra-beautiful area of your house.

Here we have a stunning Willington vinyl arbor for the beautification of your simple entrance area. This arbor design with a beautiful trellis and fence seems a great plan to transform your place into an eye-catching and attractive area of your home sweet home.

Are you looking for a fascinating patio arbor plan for the beautification of your garden, then have a look at this stylish project that is all set out for you. This white arbor with climbing plants and warm sunlight passes through it is making this plan a luxurious project for your comfortable seating under it.

Arbors are meant for privacy, overhead shade, and the beautification of a different area of the house, like the front yard, backyard, garden, and patios. This white arbor is such designed to make your entrance perfect and attractive looking place of your house, while it is also providing a softening effect on the marble floor as shown in the image below.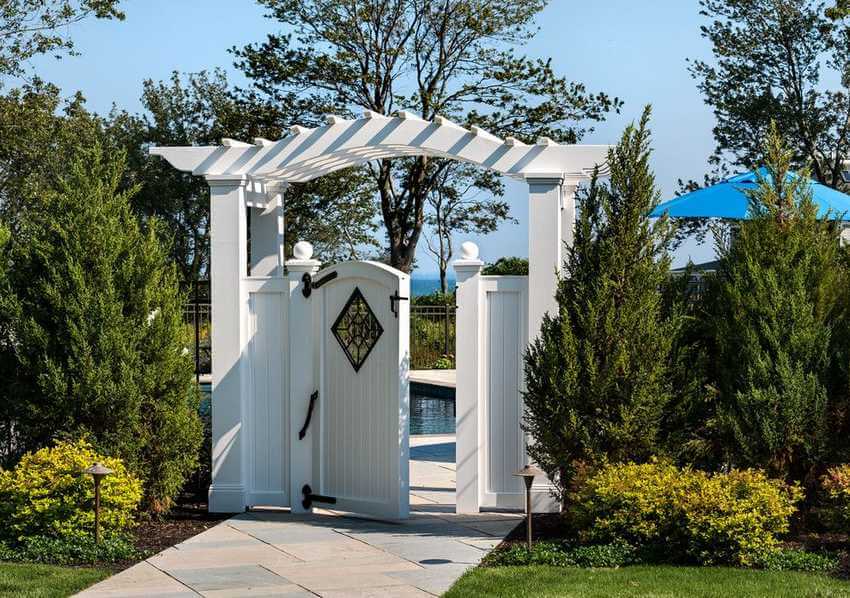 Here we have a romantic garden arbor plan for you. A birdhouse, a whimsical picket fence and a welcoming white curved arbor in the entrance are giving this arbor design a top position in all other designs. The placement of rocking chair and a creeping thyme is simply softening the stony path.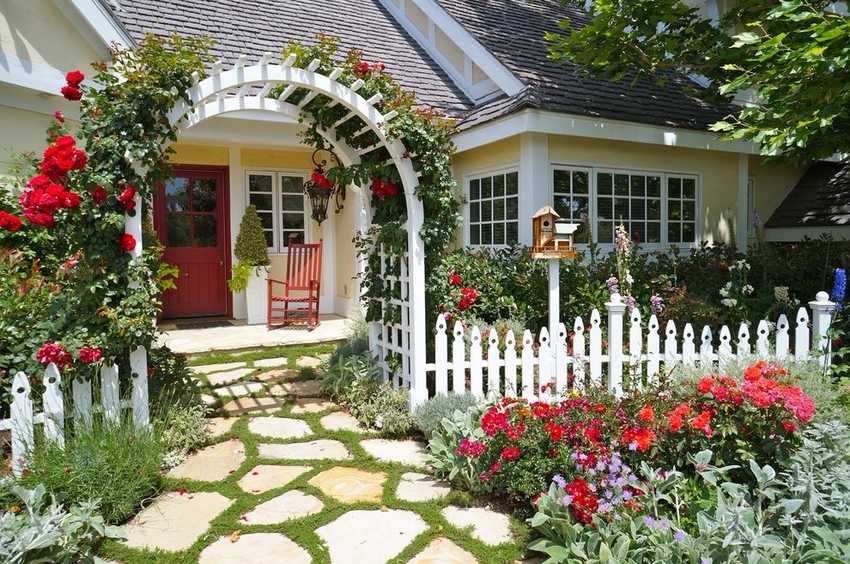 This is the very simple design of wide wooden arbor simply connected with wires for the decoration of your patios. These shades are making this walkaway an inviting place for your house. There are also some additional trellises in this arbor plan to support vines. Now create a shady corridor with these multiple wooden arbor shades.

This is something exceptional and charming about the patio arbor ideas. This wooden made curved shaped arbor with comfortable seating benches and fresh green trees and plants on and all around is making this project to design out for the renovation of your patios and to convert them into an ideal place for your relaxing time.

This is the beautiful and appealing idea of garden entrance arbor that is simply designed with the hard wooden material. This patio arbors design is ornamented with the climbing plants that give this plan a much attractive appearance for the first sight.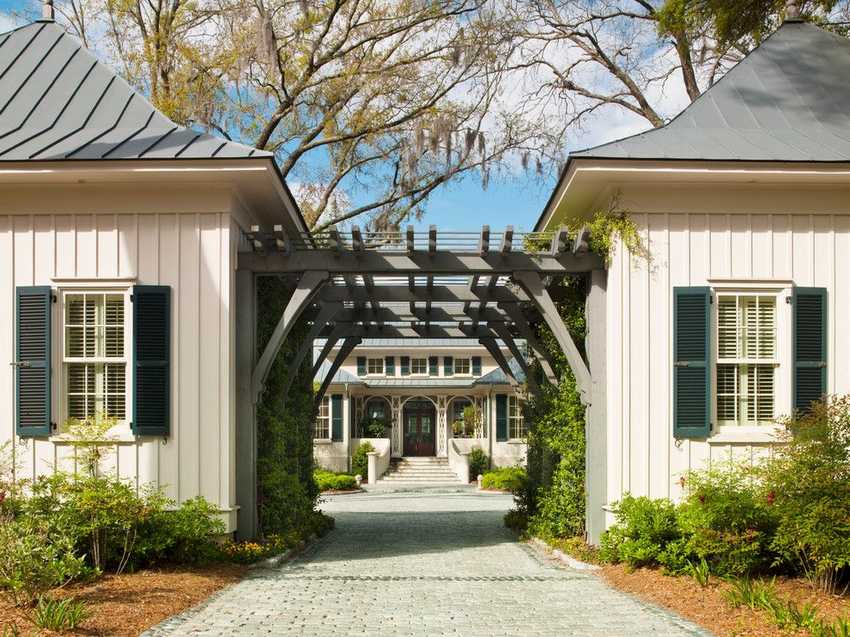 images source: houzz
Stunning Ideas for Patio Garden Pergolas