30 Awesome Pergola Design Ideas You Will Love to Have in Your Garden
If you have the desire to renovate your garden area in an appealing way then make the best use of pergola designs and ideas for this purpose. You will no doubt fall in love with these beautiful structures that you can easily design with different materials as well as in different patterns. An artistically designed pergola project will add beauty to your place, will please your aesthetic senses, and also provide a sense of privacy in your home's outdoor. Pergolas are not only meant for beauty only but it will also make the outdoor much useful for you by controlling the rays of sunlight as according to your needs. A properly built pergola plan will also provide you a comfortable space for your relaxing in your leisure time.
Have a look at this stylish and modern-looking pergola shade plan. This craft appears stunning as white never fails in the patio. This awesome pergola shade is designed just for increasing the beauty of this place and the fascinating seating mattresses with lots of lights all around are enhancing the grace of this place beyond anyone's imagination.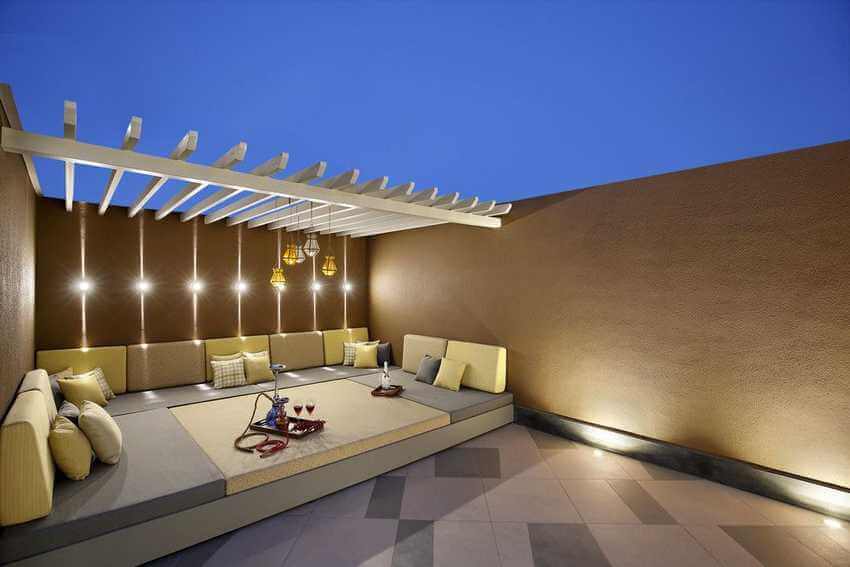 This modern pergola shade is all designed for renovation purpose of your garden. It is also created to make your outdoor area or deck beautiful and comfortable enough to enjoy the fresh air in your own garden area. This shade will for sure add privacy to your seating place.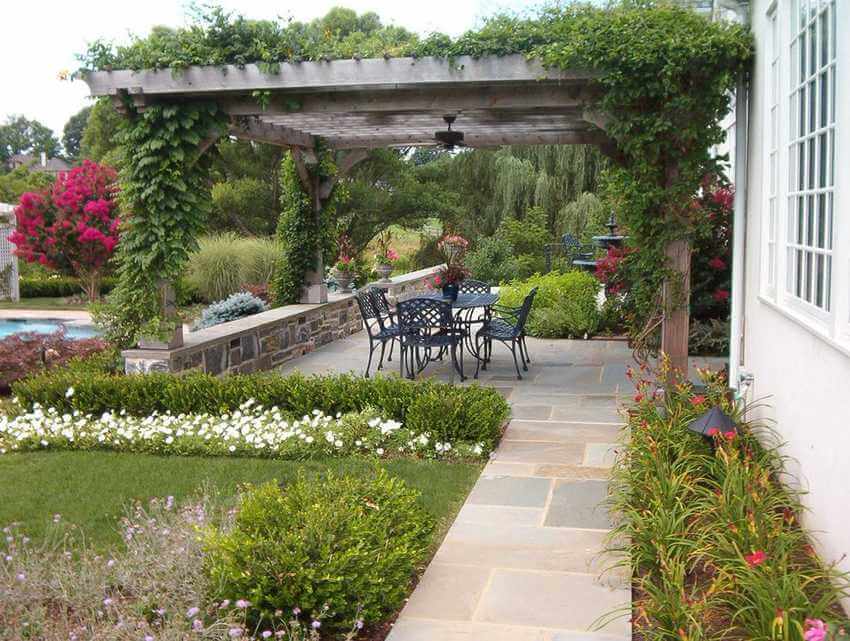 Now dress your garden's deck plan in a captivating way through the selection of this wonderful pergola shade for your place. The color combination of this pergola shade with the design of this house is making this project more bewitching and attractive. You can also design this plan with the help of wooden material.

This amazing pergola shade appears stunning near the pool area. This project is royal enough to give your place a luxurious appearance. Pergola shades not only balances the coming sun rays but also wonderful structure to add glamour and charm near your pool area.

Here we have another stunning pergola shade plan for your garden and that is smartly designed over the red bricks deck as well. The This white beautiful pergola shade with pillars and a link to a home's walls appears best to make a part of your front yard and entrance.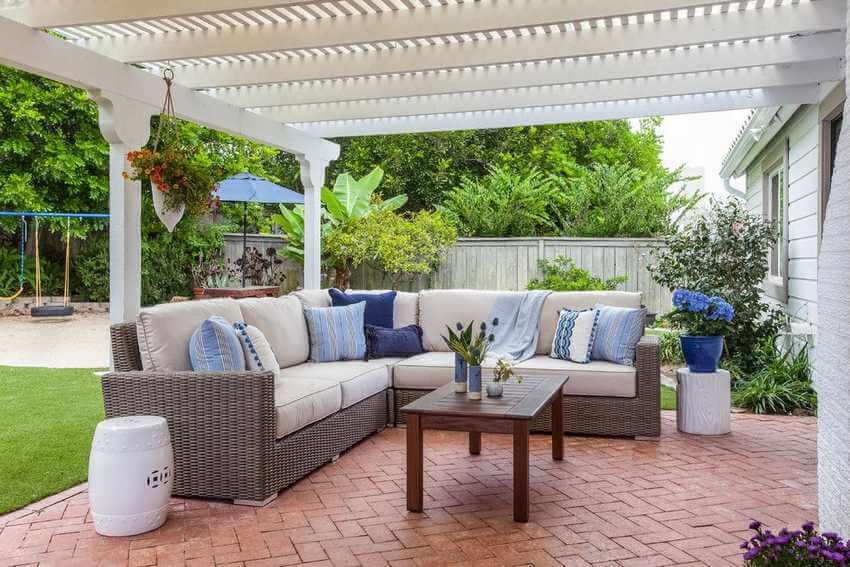 This stylish and lavishing wooden pergola shade with lots of beautiful light bulbs, greenery around it and also with the smart placement of dining furniture appears best to give your home a delightful outlook impression. This project will simply a mixture of natural and artificial beauty.

If you are looking for a pergola shade that will make you able to have a feel of openness, then the image given below is the best option for you. The concrete made raised deck with a lots of trees and plants around it seems perfect to attract your every single visitor toward the beauty of your outdoor.

Here we have another amazing pergola shade plan adding beauty and charm to your simple outdoor places. The artistic piece of artwork has been done with the different slices of aluminum material to make this though-provoking pergola shade over the deck.

A wonderful example of pergola shade is given-below that simply describes us that modern pergola shades designs are not only good for the decoration of your home's outdoors but also functional for the renovation of public places, especially for the restaurants that are closed to hill stations and also near the sea.

Modern outdoor and garden pergola shades are appearing trending and much useful structure to add charm to your places. This white pergola shade over the wooden deck as well as near the hot tub is simply connected to this beautiful white-color painted house with the help of pillars. This creation will definitely make your place alluring for every one.

Here we came up with an extraordinary creation for your garden area. This garden pergola shade is specially meant to provide you something exceptional for your relaxing time in your garden area. You can also make a use of some curtains inside this wondorous project to give this project a desirable look.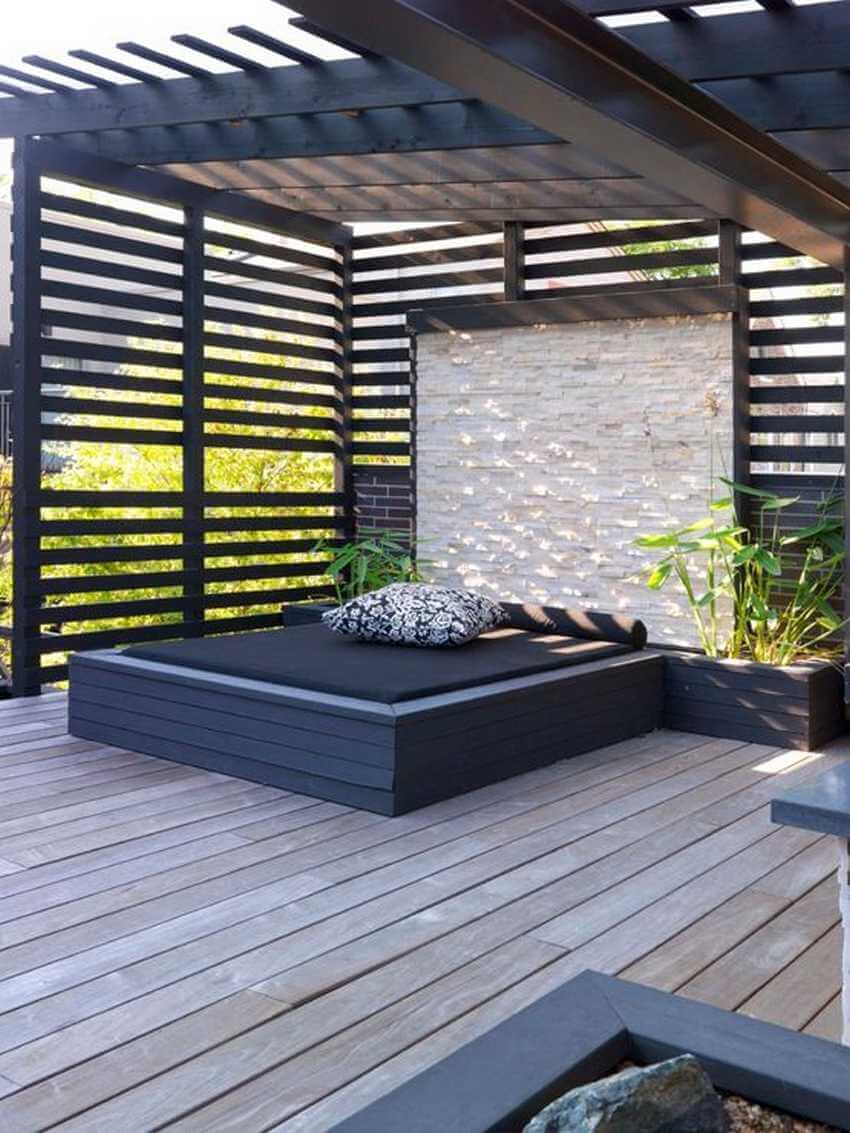 Implementation of such an artistic shade of pergola in your garden and outdoor area will for sure give your place a luxurious outlook impression. It's time to adore every beautiful happening and moment of your life by sitting under these wonderful pergola shade plans. This artistically built shade will provide your aesthetic senses a pleasure of relaxation with its delightful look.

Make the appearance of your garden area eye-catching and appealing for the first sight by designing this marvelous pergola shade in it. This place is entirely decorated as according to modern renovation styles and trends. This place with this awesome garden pergola shade appears breathe-taking.

Now make your outdoor exceptional place for your outdoor dinings with the designing of this extraordinary pergola shade plan. The criss-cross pattern of this brownish-grey shade pergola appear sophisticated and much attractive for the first sight. This craft is also good enough to design for the renovation of your hill hotels and restaurants.

A steel-made pergola shade over a beautiful wooden deck and in your balcony appears the royal project for your home. The roof of the house is linking to this wonderful pergola shade that us making this decorating plan more appealing, effective and functional to have a relaxed feeling in the beautiful open environment.

This modern pergola shade appears just like a white color roof on top. This is much fascinating and delightful project to make your outdoor deck area perfect for family gatherings. The entire project is designed with the help of aluminum material that will also assure that this renovation will serve your home with beauty for many years to come.

The first and the main purpose of designing a pergola shade in a garden or outdoor place is to give a royal appearance to dull and useless place. This wooden pergola shade is smartly designed by keeping the small area of your gardens and terraces in mind. This craft will for sure please your aesthetic senses with its charming beauty.

It's time to add a natural and attractive beauty to your garden area. This DIY pergola plan will make your front yard appear grand, extraordinary and no doubt thought-provoking as well. Let's enjoy every moment of your life and happiness in a delightful manner while sitting under an attractive garden pergola shade.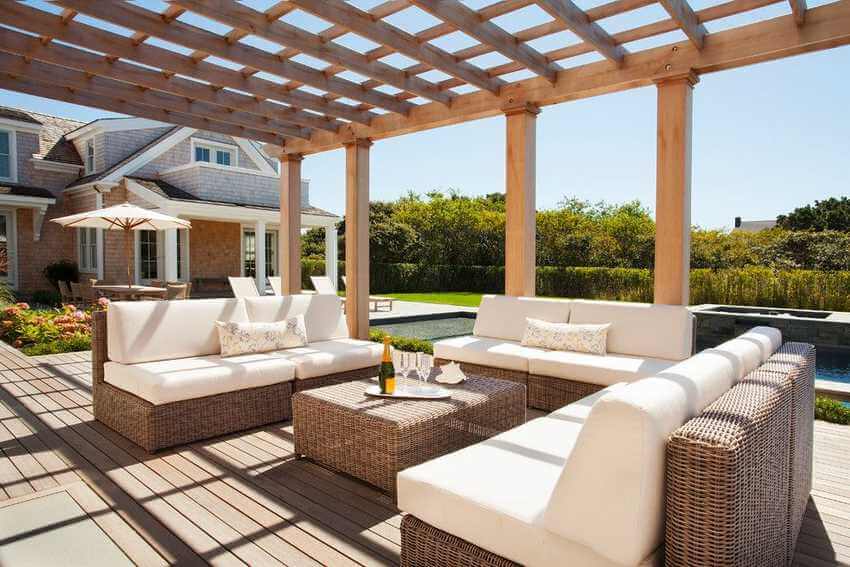 images source: houzz
Modern Pergola Design Ideas