30 Eye Catching Design Ideas for Pergola Decks
If you are looking for the wonderful decoration idea to make your simple looking place eye-catching then simply renovate it with the designing of pergola over the deck. You will for sure fall in love with the natural and appealing beauty of these pergola ideas. Pergola shade is not only meant to increase the beauty of your places but also great to amaze your visitors and friends with the admirable presentation of your place. These attractive pergola deck designs ought to add charm and shade to your home sweet home. These are also meant to provide you a feeling of privacy in your outdoor areas. It will also increase the value of your property with their charming beauties.
This is wonderful wooden pergola shade over the wooden deck. This pergola design has partially covered the deck area of the place as shown in the picture given below. This place will not only appear beautiful at nights but also make your mornings much enjoyable when you will check it in bright sunshine.
The shape of the pergola shade matters a lot whenever you have decided to design it for the renovation of your outdoor and entrance area. This amazingly designed pergola is semi-covered with the use of aluminum slices in it, while the white pergola over the two-level wooden made deck is giving this place grant look at the first sight.

This is another thought-provoking wooden pergola design over the patio. This wooden pergola is not completely covered as the large square-shaped area will allow the sunlight to peek in through it. This craft is also best for your restaurants and as well as for the decoration of seating points near the hill stations.

Here we have a rustic and wild pergola over the deck for you. This creation is smartly designed for the renovation of your entrance and front yard. This wooden pergola design is not fully covered so that warm sunlight rays can easily enter into it. The element of nature and greenery is with different sizes of trees and plants.

This lavishing and awesome decorated pergola over the wooden deck and patio seems perfect to make a part of your garden and outdoor area. This design will make you able to arrange wonderful get-togethers in the delightful natural surrounding. This pergola is the perfect combination of light and shade.

This is small yet an appealing design of modern pergola that is entirely designed with the use of rustic wood in it. This pergola is settled in the balcony of the house, it has a two-sided covered area with the wooden material while the two-sided open area also appears best to enjoy the beautiful weather while sitting under it.

Here we have another elegant and attractive pergola design that is simply infused in the veranda of this house. This time we have designed this project with the combining use of steel and aluminum material together. The higher wooden deck with four wooden stayers seems an exceptional piece of artwork to increase the grace of your outdoor.

When you are interested in making the best use of wooden material for the renovation of your balconies, your terraces as well as your outdoor, this wooden pergola with wooden pillars, wooden balcony craft and lots of planters all around it seems perfect to make a part of your home right now.

Pergola is the structure that is meant to add beauty and charms to simple and dull looking places. This flying bird shaped black pergola over the two-level cemented deck also appears the best example of it. This place is also renovated with lots of natural beauty after the planting of different trees and plants all around it.

It's a time to add paradise-like and dreamy touch to your place and give it a royal outlook impression with the designing of this white color pergola over the beautiful created deck area. This wonderful combination of wooden texture with the ethereal white beauty is making this place luxurious to have candlelight dinners on it with your loved one.

This pergola design seems perfect over the wooden deck. This design of decoration appears much artistic in this garden area. The raised wooden deck with the pergola shed on top and also with a unique wooden furniture in it is making this place best to spend your leisure time in it.

Let's have a look at the fascinating designing of this outdoor that is simply designed out in a royal manner. This pergola with pillars are entirely made of hard steel material while we have placed a small piece of fabric in its middle portion to give you a feel of privacy at your place. This deck design is also artistically created with the adjustment of wood planks in various variations.

Are you looking for the best-decorated pergola plan for the decoration of your rough and unbalanced outdoor space, if yes, then use this given below design. This semi-covered steel pergola with four pillars on sides and a little raised wooden deck appears best to transform your rough surface beautiful enough for your comfortable seating.

This wonderful pergola shade has completely covered this deck and the patio. We have used a net fabric in between the shade to provide you a feeling of privacy and also to make a balance for the coming sunlight as well. This beautiful deck design is so attractive and simple that you can also design it with the help of wood pallet stacks as well.

If you have a large wooden deck area in your outdoor, and you are searching for the delightful pergola shed for its renovation, then this picture example is just for you. This rectangular-shaped pergola is showing out that a well-built pergola always adds charm and beauty to simple and ordinary looking place.

Here we have another wonderful pergola design that is artistically created over the higher wooden deck. You can easily select this renovation item for the decoration of your outdoor restaurants and coffee places especially those are near the hills or on the top of the mountains. This creation will no doubt attract your customers towards its beauty.

Pergola designs are specially meant for the beauty of the place and this side pergola is also designed for the renovation of this backyard. The horizontal lines of the deck are no doubt adding character to this place. This place appears stylish to have your lunchtime in it as well as to have an enjoyable sunbathe experience with your beloved partner.

Here we have some stunning ideas of pergola designs over the wooden deck and this design is also one of them. We have smartly shaped this plan with the artistic work of pergola shade over the wooden deck and the entire creation is made with the same red hardwood material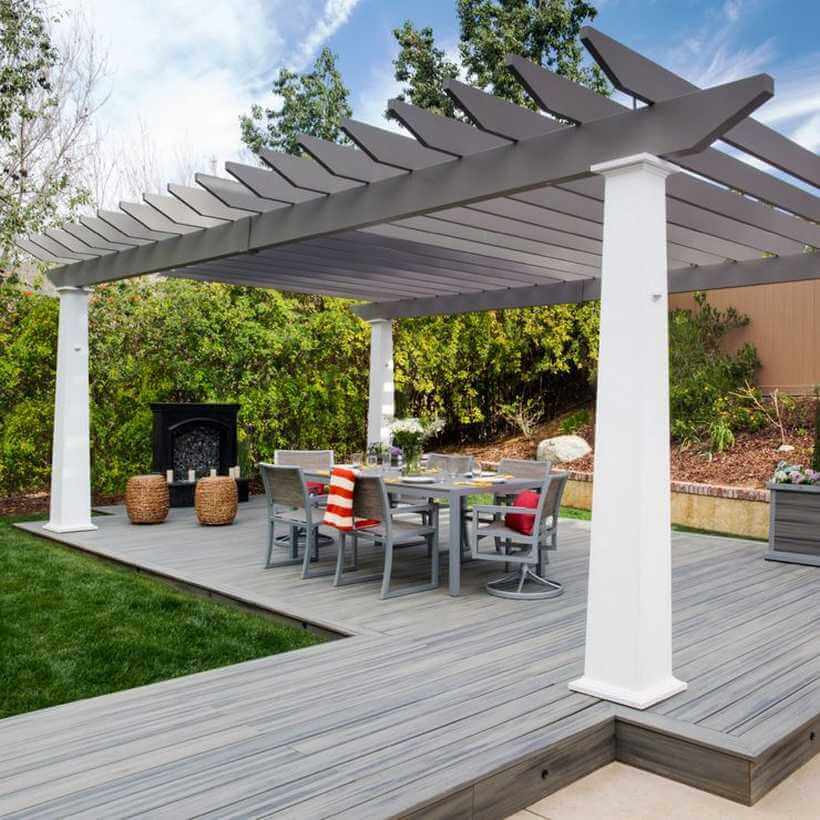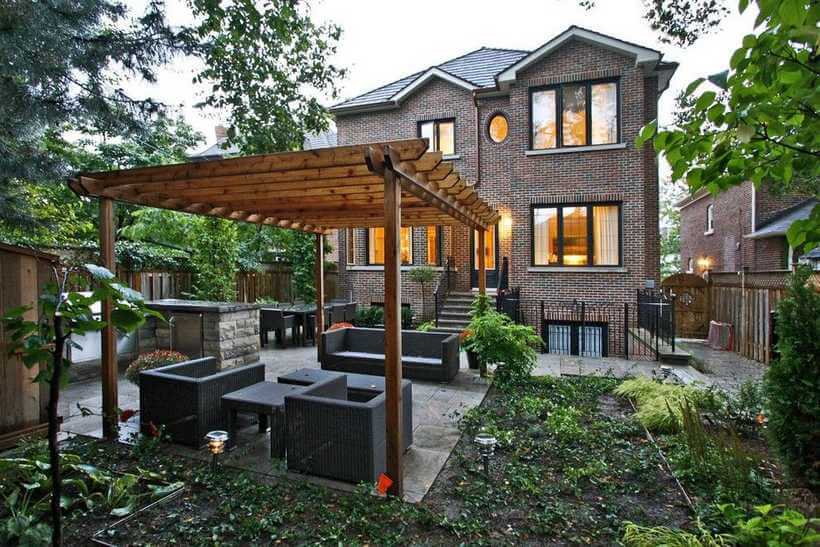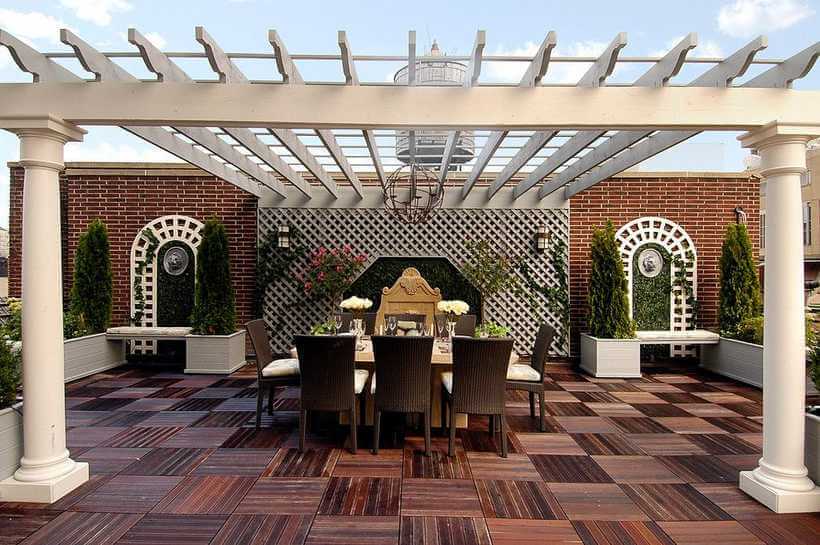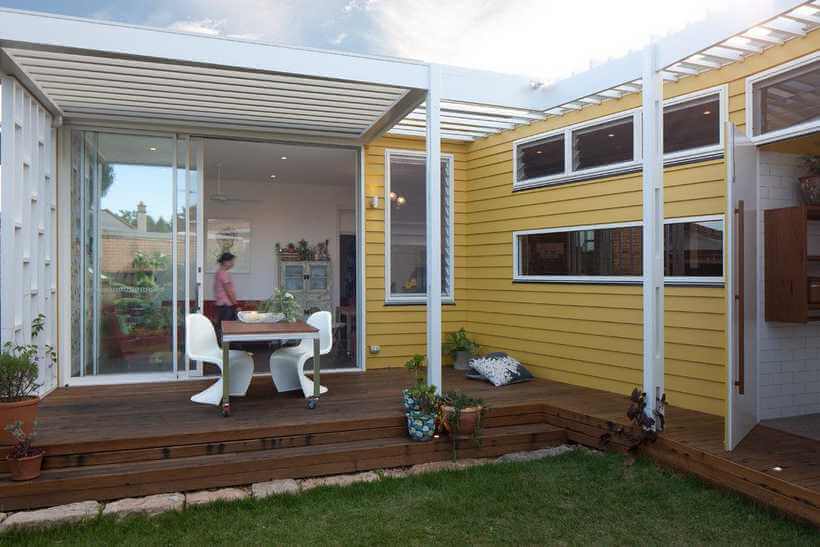 images source: Houzz
Adorable Design Ideas for Deck Pergolas