Enhance Your Garden Oasis: The Allure of a Wooden Pool
A serene oasis awaits you in your very own garden with the addition of a wooden pool. Combining natural aesthetics, eco-friendly materials, and the joy of swimming, a wooden pool brings a unique charm to outdoor spaces. Unlike conventional concrete or fiberglass pools, wooden pools provide a harmonious blend of functionality and natural beauty. In this article, we will explore the various aspects of wooden pools, including their design versatility, construction process, maintenance requirements, and the many benefits they offer.
Design Versatility:
One of the most captivating features of a wooden pool is its design versatility. Whether you have a large backyard or a cozy courtyard, wooden pools can be customized to fit any space. Their modular construction allows for flexibility in shape, size, and depth. From rectangular to round, and even freeform designs, a wooden pool can be tailored to suit your personal preferences and complement the existing landscape. Moreover, wooden pools offer a wide range of finishes, such as natural timber, stained wood, or even painted surfaces, allowing you to create a pool that seamlessly integrates with your garden's aesthetics.
Construction Process:
Building a wooden pool involves a well-planned construction process that ensures structural integrity and longevity. The first step typically involves excavation and preparing the foundation. The pool's framework, usually made of pressure-treated timber, is then assembled and secured. Next, a liner or waterproof membrane is installed, providing a watertight seal. Once the structure is in place, the plumbing and filtration system are integrated, ensuring efficient water circulation and maintenance. Finally, the pool is filled, and finishing touches such as decking, steps, and safety features are added. Although the construction process may vary depending on the specific design and features, engaging professionals with expertise in wooden pool installations is essential for a successful and hassle-free project.
Maintenance Requirements:
One of the advantages of wooden pools is their relatively low maintenance requirements compared to traditional pools. Regular cleaning and maintenance tasks include skimming the water surface, vacuuming the pool floor, and checking and balancing the water chemistry. The use of natural biocides or chlorine alternatives can help maintain water clarity and quality while reducing the environmental impact. Wooden pool surfaces may require periodic sealing or staining to protect against moisture and UV damage. Additionally, inspecting the pool's structure, plumbing, and equipment for any signs of wear or damage is crucial for its long-term durability. Adhering to recommended maintenance practices and seeking professional advice when needed will ensure that your wooden pool remains in optimal condition for years to come.
Pool Design Ideas:
When it comes to designing a wooden pool for your garden, there are countless options to consider. Here are some inspiring design ideas to help you create a stunning and inviting space:
Rustic Retreat:
Embrace the charm of a rustic style by opting for weathered and natural-looking wooden pool materials. Choose rough-hewn timber for the pool's frame and decking, giving it a beautifully aged appearance. Add some natural stone accents, such as boulders or flagstone, to create a harmonious blend of materials. Surround the pool with lush greenery and incorporate earthy tones for furniture and accessories to complete the rustic retreat feel.
Contemporary Elegance:
For a sleek and modern design, opt for clean lines and minimalist elements. Choose a wooden pool with a smooth and polished finish, combining it with sleek, geometric shapes. Incorporate features like built-in waterfalls or fountains to add a touch of elegance. Complement the wooden pool with sleek, neutral-colored furniture, minimalistic plantings, and strategic lighting to create a sophisticated ambiance.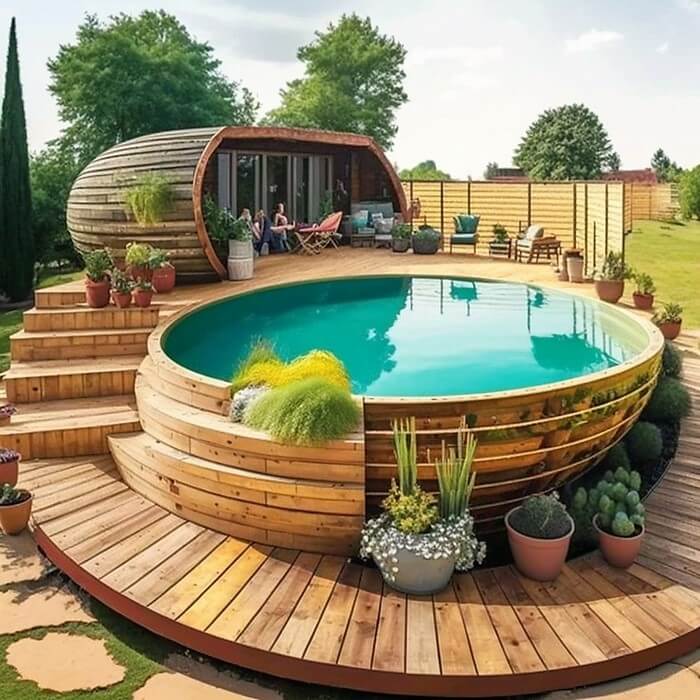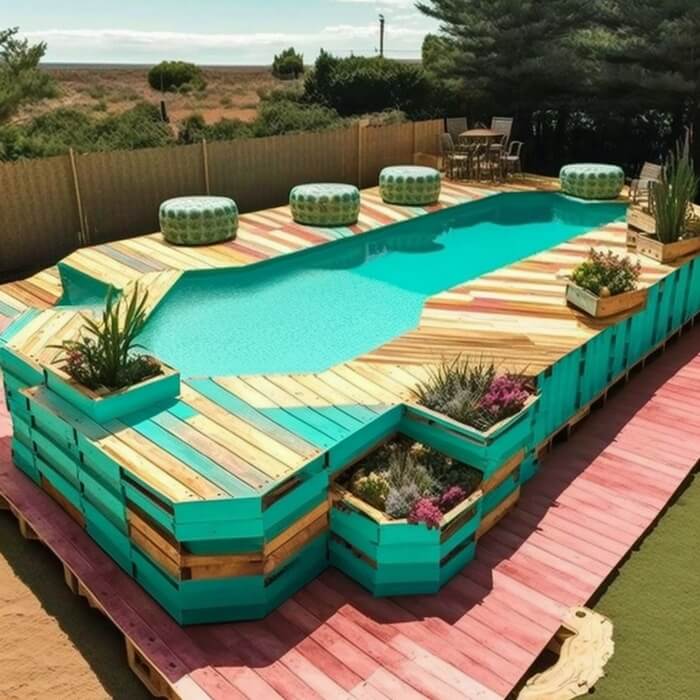 Tropical Paradise:
Transform your garden into a tropical paradise by designing a wooden pool inspired by exotic getaways. Opt for richly stained or tropical hardwoods to create an inviting and warm atmosphere. Consider adding a thatched-roof gazebo or a tiki bar nearby to enhance the tropical vibe. Surround the pool with lush foliage, vibrant flowers, and palm trees to complete the island paradise feel.
Japanese Zen:
Embrace the serenity and simplicity of a Japanese-inspired design. Choose a wooden pool with clean lines and natural finishes. Incorporate elements such as bamboo accents, stone pathways, and carefully placed rocks to create a Zen-like atmosphere. Consider adding a wooden deck with a small bridge or stepping stones for a tranquil touch. Integrate minimalist furniture, bonsai trees, and lantern-style lighting to complete the Japanese Zen aesthetic.
Family Fun Zone:
Design a wooden pool that caters to the entire family and encourages fun and play. Consider incorporating multiple levels or sections within the pool to accommodate different age groups or activities. Include features such as water slides, diving boards, or a shallow wading area for young children. Add a poolside cabana or shaded seating area for relaxation and entertainment. Use vibrant colors, playful patterns, and comfortable seating options to create a lively and energetic atmosphere.
These design ideas can be customized and combined to suit your personal preferences and the available space in your garden. Working with a professional pool designer or architect can help bring your vision to life and ensure that the design aligns with your specific requirements and the overall aesthetic of your garden.
Benefits of Wooden Pools:
Wooden pools offer numerous benefits that contribute to their growing popularity among homeowners:
Eco-Friendly and Sustainable:
Wooden pools are an eco-conscious choice as they utilize renewable resources and have a smaller carbon footprint compared to traditional pools. The timber used in their construction can be sourced from sustainably managed forests, making them a more environmentally friendly option. Furthermore, the use of natural and biodegradable pool chemicals reduces the impact on local ecosystems.
Aesthetics and Natural Appeal:
With their warm and inviting appearance, wooden pools blend harmoniously with outdoor surroundings, providing a natural and organic feel to the garden. The combination of wood and water creates a tranquil ambiance that enhances relaxation and connects you with nature. Whether you prefer a rustic, contemporary, or tropical look, a wooden pool can be customized to match your desired style.
Durability and Longevity:
Contrary to initial expectations, well-built and properly maintained wooden pools can exhibit impressive durability. High-quality timber, coupled with protective coatings and proper sealing, ensures resistance against water, sunlight, and other external factors. With regular care, a wooden pool can provide enjoyment for many years, standing the test of time.
Cost-Effectiveness:
Wooden pools can often be a cost-effective option compared to traditional in-ground pools. The construction process is generally quicker, resulting in reduced labor costs. Additionally, wooden pools require less excavation and groundwork, further lowering the overall expenses. Moreover, their modular design allows for easier repairs or modifications in case of any unforeseen issues or changes in preferences.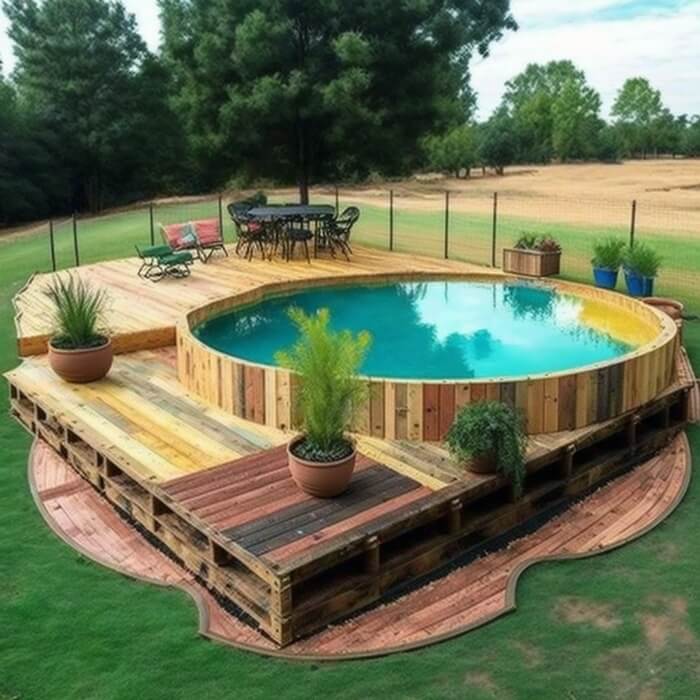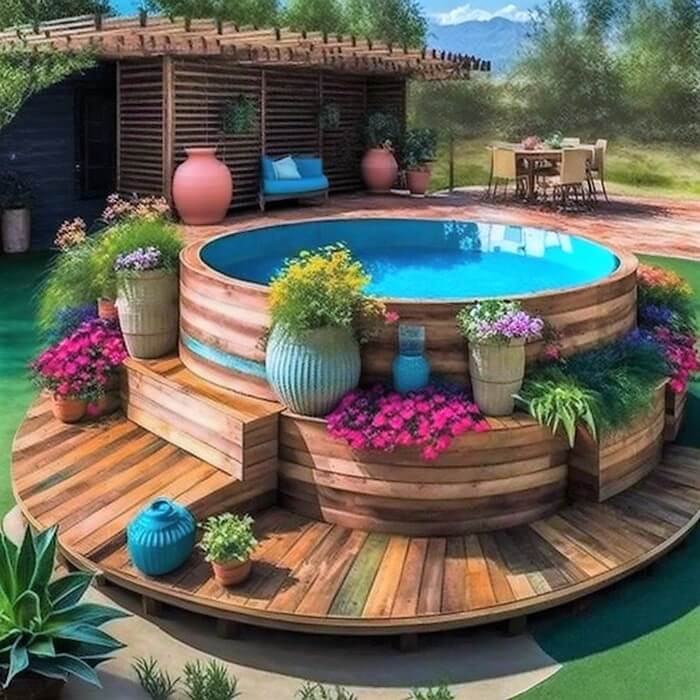 Transforming your garden into a captivating oasis becomes a reality with the addition of a wooden pool. Combining functionality, design versatility, and natural aesthetics, a wooden pool offers a unique swimming experience that complements the beauty of outdoor spaces. From the initial design and construction process to ongoing maintenance, a wooden pool provides an eco-friendly, sustainable, and cost-effective solution for homeowners seeking a stylish and harmonious addition to their gardens. Whether you envision a peaceful retreat or a vibrant gathering space, a wooden pool is sure to enhance the overall appeal and enjoyment of your outdoor haven.