Garden Pergola And Gazebo Deck Ideas With Bohemian Style Decor
Bohemian style, also known as boho style, is a fashion and interior design aesthetic that embraces a carefree, eclectic, and unconventional vibe. It draws inspiration from various cultures, including the bohemian lifestyle of artists, travelers, and free spirits. Bohemian style often incorporates an abundance of patterns, including floral, geometric, ethnic, and vintage-inspired designs. Mixing and layering patterns can create a visually rich and vibrant look. Bohemian style values comfort and creates a relaxed atmosphere. It often features cozy seating areas with floor cushions, poufs, and layered textiles. Soft lighting, such as lanterns or string lights, enhances the inviting ambiance. A Bohemian-style garden pergola and gazebo deck can create a charming and eclectic outdoor space. Bohemian style garden decor is all about embracing a free-spirited and eclectic aesthetic.
Pergola Design:
Choose a pergola with a rustic or natural look. Consider using materials like wood or bamboo to give it an organic feel.
Add decorative elements such as draped fabric, colorful curtains, or string lights to create a whimsical and bohemian atmosphere.
Incorporate intricate patterns or carvings in the pergola structure to enhance the bohemian aesthetic.
Gazebo Design:
Select a gazebo with an open design that allows for airflow and natural light. A gazebo with a canopy or roof made of fabric can add a touch of bohemian charm.
Consider incorporating a mix of materials like wood, metal, and natural fibers for a bohemian look.
Add comfortable seating options inside the gazebo, such as cushions, poufs, or hammocks, to create a cozy and inviting space.
Deck Design:
Choose a deck material that complements the bohemian style, such as weathered wood or reclaimed materials.
Consider adding a touch of color by painting the deck in vibrant shades or incorporating colorful rugs or floor cushions.
Create different levels or sections on the deck to add visual interest and accommodate various activities.
Bohemian Decor:
Incorporate lush and vibrant plants throughout the space, such as hanging plants, potted flowers, or climbing vines.
Use eclectic and mismatched furniture pieces, including vintage or repurposed items, to create a bohemian ambiance.
Add decorative elements like dream catchers, tapestries, lanterns, or wind chimes to enhance the bohemian style.
Consider using natural or textured fabrics, such as macrame or woven rugs, to add depth and a bohemian touch to the space.
Cozy Nooks:
Create cozy seating areas or nooks within the pergola or gazebo deck. Include comfortable seating options like hammocks, floor cushions, or hanging chairs.
Use curtains or drapes to create private and intimate spaces within the larger outdoor area.
Incorporate outdoor rugs, poufs, and small tables to make the space inviting and functional.
Bohemian style embraces a carefree and eclectic aesthetic, so feel free to mix and match different elements to create a unique and personalized space.
Here are some ideas to incorporate Bohemian elements into your garden deck decor:
Colorful Fabrics:
Use vibrant and patterned fabrics in various ways. Hang colorful tapestries or curtains on walls or fences to create a bohemian backdrop.
Add colorful outdoor cushions and pillows to your seating areas.
Drape colorful fabrics over pergolas, gazebos, or hammocks for a whimsical touch.
Natural Elements:
Incorporate natural materials such as wood, rattan, and wicker furniture to bring an earthy feel to your garden.
Use natural fiber rugs or mats to define seating areas or pathways.
Arrange decorative baskets or planters made of natural materials to display flowers, plants, or herbs.
Hanging and Potted Plants:
Bohemian gardens often feature an abundance of greenery. Hang potted plants from tree branches, pergolas, or hooks to create a lush and vibrant atmosphere.
Mix and match different types of plants with varying heights, textures, and colors for an eclectic look.
Consider incorporating trailing plants, like ivy or ferns, to create a cascading effect.
Vintage and Eclectic Furniture:
Look for vintage or second-hand furniture pieces with unique designs and character. Mix and match chairs, tables, and benches for an eclectic seating arrangement.
Use colorful painted furniture or distressed pieces to add a bohemian touch.
Repurpose old items like wooden crates, barrels, or pallets to create unique garden furniture or planters.
Decorative Accents:
Hang dream catchers, wind chimes, or mobiles from trees or pergolas to add a whimsical and mystical vibe.
Decorate the garden with lanterns, string lights, or fairy lights to create a cozy and magical atmosphere for evening gatherings.
Incorporate eclectic and global-inspired accessories such as Moroccan lanterns, Indian textiles, or African tribal art.
Outdoor Rugs and Floor Cushions:
Use colorful outdoor rugs to define seating areas or create cozy corners.
Scatter floor cushions and poufs around the garden for comfortable and relaxed seating options.
Layer rugs and cushions of different sizes, textures, and patterns to add depth and a bohemian feel.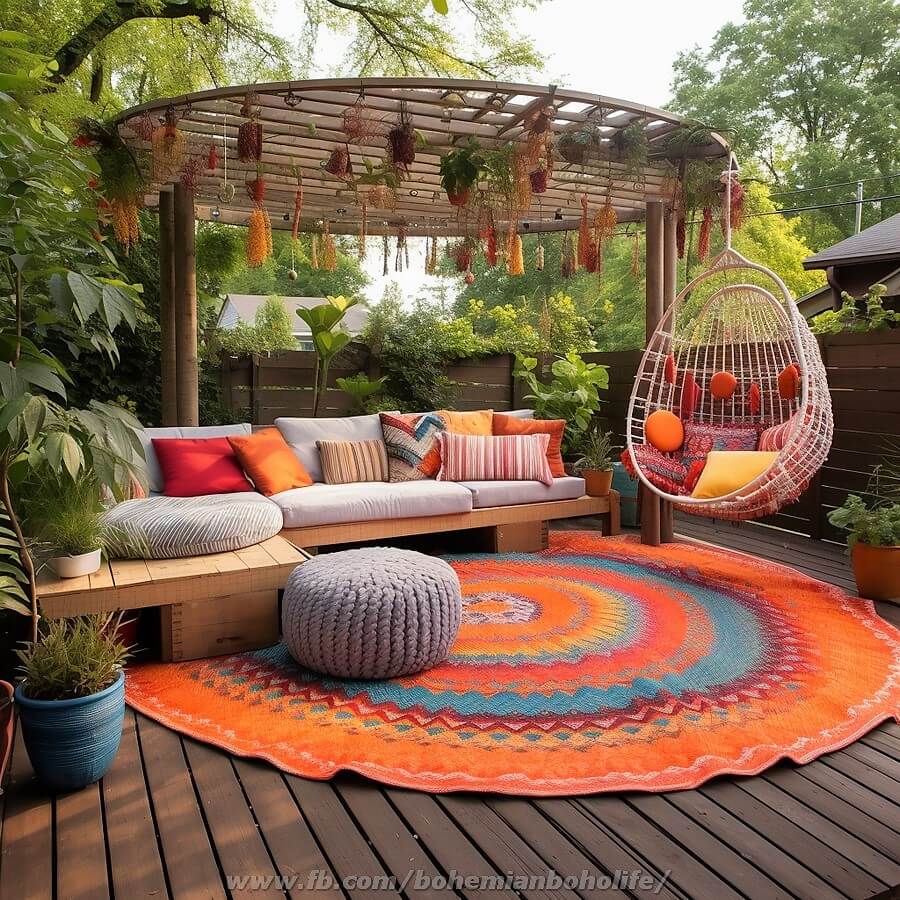 Remember that Bohemian style embraces individuality and creative expression, so feel free to mix and match various elements, colors, and patterns to create a unique and personal Bohemian oasis in your garden.