Unique And Elegant Patio Pergola Designs
It's time to add attraction and charming beauty to the patio by designing these elegant and unique pergola designs. These amazing pergola plans are meant to bring embellishment, for privacy as well as to provide you a useful shade for your proper seating. Pergola structures have become the essential need to beautify the outdoor patios, as it simply becomes a trend all around the globe. So adorn your patio with these stunning pergola ideas made of hardwood, cedar wood as well as some are consist of aluminum and steel material as well. Integrate prettification to your place by choosing the wonderful pergola design for your patio shown below.
Let's check out an elegant design of pergola plan for the renovation of your patios. This pergola design has been the design out of the rustic wooden material. This thought-provoking embellishment of the patio will provide you an artistic place to spend a memorable time with your family.

This DIY pergola design especially shapes out for the lovers of wood material. The unique wooden pergola over the wooden patio with a stylish dining set seems good-enough for the adornment of your simple looking patios. This place will cherish every moment of your life with its charming outlook impression.

Craft something unique and innovative for your place, by designing this attractive piece of pergola over the hardwood patio terrace. This outdoor kitchen seems a stylish place for the beautiful house, where you can easily spend a wonderful time with your friends and family.

Give a royal touch to your patio by choosing this awesome wooden pergola design for it. The use of red cedar wood is simply showing out the durability of the plan. This thought-provoking patio ornamentation idea is for sure making the simply patio an appealing place for your house to enjoy cool winter nights by sitting there.

Here we have a curved wooden pergola design for your patio. In this plan, the use of tree wood with some hard fiber material is providing the best combination of shade, privacy, and elegance as showing out in the image of the public place. This is simple but an attractive adornment idea to bring a positive change to your place.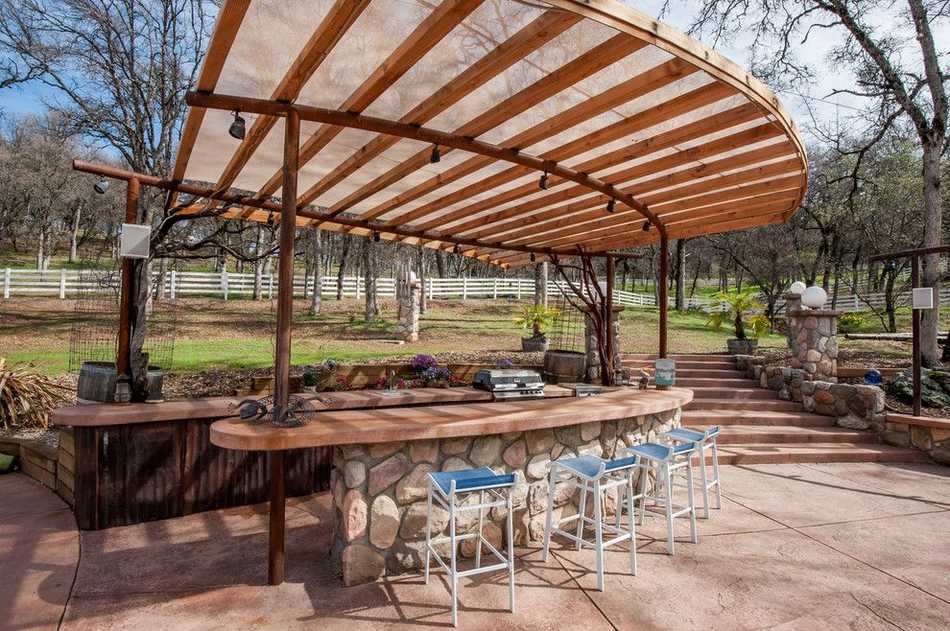 This is another picture description that how you can adorn your patio with the white beauty of this pergola design. This raised wooden patio is renovated with the stylish pergola that is amazingly making this useless outdoor area great for seating in the fresh open environment.

It's time to take the pleasure of shade and privacy at your own beautifully renovated patio. These series of pergola designs are one-sidedly attached to the house structure, while the second side is embellished with fantastic glass doors. Once you will bring this pergola design to your place, you will definitely fall in love with it's appealing beauty.

Shape out something exceptional for your patio, in the form of this free-standing pergola idea. This unique wooden pergola design is created to retransform the ordinary look of your patio and turning it into an ideal place for your kids playing time.  
Pergola designs are not always free-standing in their designing, sometimes they are artistically grounded in house wall or even in patio floors. This image will also make your introduction with such an elegant pergola plan that is totally set out for the beautification of your marble patio. The colorful flowers all around are adding life to this plan.

Look at the charming and impressive look of this stunning pergola design. This bricks made patio is decorated to provide you maximum pleasure in your leisure time. We are quite sure that you will love to spend your gathering and candlelight dinners at this breathe-taking patio setting.

If you are one of them, who are looking for an ideal pergola plan for the adornment of their small patios, specially for their backyards then, this is an extraordinary pergola design for you. This project will turn the simple atmosphere of your patio into eye-catching one. The use of fabric will also done to balance the coming sunlight.

A well-built pergola kit designing always appears functional and effective for the renovation of the patio. This tiles made patio is renovated in a classic way through the construction of a fireplace and of course with an old-fashioned ceiling fan. But also giving an impression of modernism with the arrangement of the modern dining set.

Designing a chocolaty-brown pergola at kid's playing areas or at your outdoor patio looks an exceptional choice for house makers. So this free-standing piece of decoration is simply making this patio great enough to enjoy your wonderful time with your kids under a durable shady structure.

Now check out this stunning pergola design for the beautification of your restaurant patios. This plan is entirely designed to enhance the beauty of picnic places so that it's appealing beauty will make your wonderful free time more enjoyable for you. Make this DIY pergola a part of your place to attract the visitors to your place.

Presenting to you an ideal pergola plan for your patio that you will definitely find on the top in all the given pergola ideas. This beautiful pergola is created in the middle of the outdoor patio, where the entire surrounding is full of fresh green plants, grass, and trees.

This image is showing a wonderful designing of curved pergola kit. Pergola structure over the stylish patio and a pool or hot tub at the side always remained the ideal choice for the embellishment of any patio. This place is further decorated with different plants and of course with the organic wooden fencing on sides.

Add perfection to your patios and turn them into a luxurious place at your home sweet home by choosing this breathe-taking pergola design for it. This wooden pergola with canopy seems magnificent on this garden patio to have an enjoyable dinner at the fresh, and greeny atmosphere as shown in the picture below.

Let's bring life to your patio with the outstanding designing of white pergola design on your patio. This delightful patio is smartly modernized with the best combination of classic and modern in it. This fascinating pergola design will change your living style by providing you an awesome place to spend time that also has a view on the side. 
Stunning Ideas for Patio Garden Pergolas
Decorate Your Patios with Stunning Pergola Designs