Architectural Modern And Luxury Pool Designs
We all agree that one thing that can turn a bad mood into a good one is to get wet either in the shower or in the pool, but pool is the best one option. It means we all are just one swim away from a good mood. Summer is ON so you need a proper plan to have swimming. Have you planned to have your own swimming pool right in your house? If not, then do it now because we are here with some stunning modern and luxury pool design ideas. You cannot only take benefit of getting aware by the pool designs but also the whole surroundings to make an idea that is completely applicable. So let's soak in the sun with perfectly designed outdoor or open air pools in your house backyard.

First of all appreciation goes to the photographer for capturing this impressive view for viewers to get a perfect idea to enhance their pool area. You can clearly see the cool underwater pool design over the blue background color that is looking amazingly beautiful. The gazebo and all the arrangements around the pool are making it all in one package.
Composite pools design is all time trendy and voguish. If you have enough space to cover with pool then this is the best option for you to pick. Artificial grass outlining is looking so graceful and enhancing the pool area by mounting it. Abstract styled gazebo and pergola are upgrading the walking path toward pool and the sitting area.
The best feature of the below shown pool is that it can be adjusted in a small area too by parting it into two. The blue theme color is feeling ideal for the pool. Open air patio is really grateful for this pool to be there for giving a helpful hand to it and to amuse the family and friends.
This is what called magnificent and glorious piece of art. The pool's steps are welcoming and imposing one to jump in. the whole view is so soothing and relaxing so imagine how much would be the swimming experience. Lighting arrangements are perfect and the pineapple trees are giving it spectacular look.
What an extraordinary work done by some wonderful designer. Two composite pools of different designs are making this pool design enchanting and captivating. You can have bath in the smaller one and can have long swimming experience in the bigger one. Kids can also get wet in the smaller bath pool. And they are definitely gonna love this idea.
These composite style pools are mostly opt by resorts and rest houses. But if you choose this pool design for your house then it will turn into a bombastic attraction. This circular shape of pool is really extraordinary and unique one. The most enhanced part is the steps leading to the pool are beautifully and masterly designed.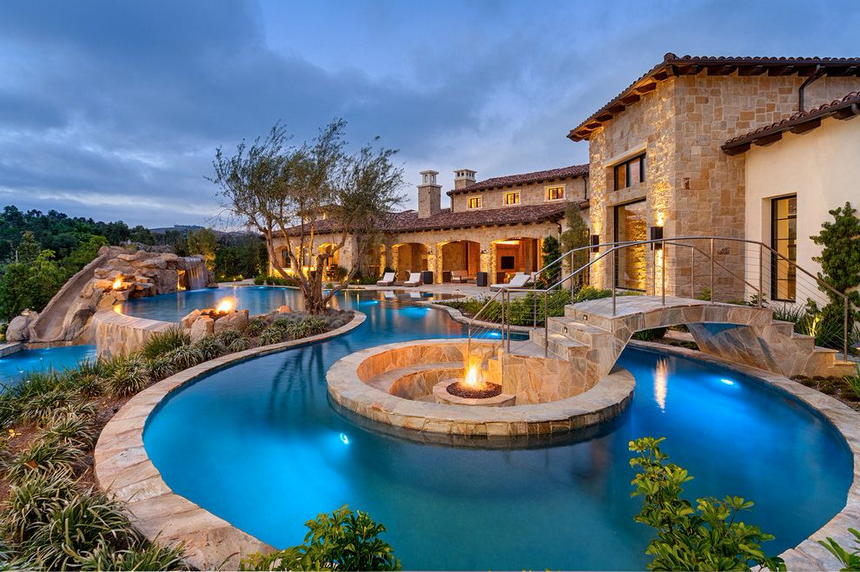 If you look at the whole view it will mesmerize you at once. It is a perfect architecture design with so many definitions. The white stone tiled path reaching to pergola patio is giving a big charm to the pool. The pool in the showing picture is working like a master piece. Edges are made up of dark blue tiles and the stone filling layer is putting amazingly beautiful effect. Nut in the shell, it is a complete package.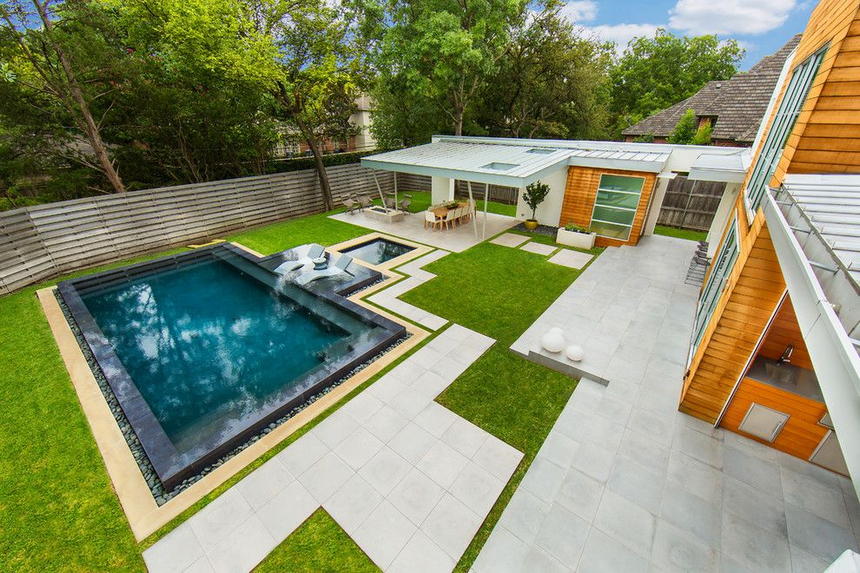 The photo is taken from the pergola that is giving a wide and beautiful view. Pine trees are always a great charm to the pool design. A small round shape bath pool is leading to the stylish and uniquely designed pool to prominent the true beauty. So forget everything and get wet in open air pool.
Pergola Shade Ideas Over the Pool
One can be amazingly astonished at what a designer could do. Designers' minds have no limits at all. Could you ever imagine a long rectangular pool at the back of your house? If not, then this is your chance to have a unique and utmost setup for your pool ideas.
I don't know from where I should start. Sometimes beauty is unexplainable. If you watch out the tiny tiny details that are used in the following pool design you would know the extremely hard work done behind this beautiful pool dressing. Plants are looking so amazing with hidden lights and the whole environment is so relaxing and ofcourse romantic.
An ultra modern voguish looked well manage pool idea is in your way. Get the idea for your backyard to make it look perfectly furnished. You can see a wall décor behind the sitting arrangement that how brilliantly it is designed. If you give a glance from pool to everywhere this wall is playing a key role in the beauty of full setup.
What an excellent gazebo is this near to the pool. It is raising the beauty of the pool up to the peak. The dreamy dim lightened environment is making it more romantic and calm. The beautiful hanging light is helping the surroundings to be looked nice, soft and calm. Now you can enjoy in this pool and can rest under this gazebo every time without getting bored.
There is no more elegance can be added. Sometimes designers go for beyond the limits and create speechless beauty. The house is amazingly beautiful and the prettiness moves till the gazebo and then from that end the pool start and come to the house and all this pool design ends at the extremely high level attraction. The big beautiful tree is looking astonished and the true enhancement at the corner.
60 Awe-inspiring Home Exterior Design Ideas
The following pool idea is perfect for resorts and other open places but if you are making your mind to have it in your house then it is definitely going to make your house heavenly beautiful. The main thing that is featuring the pool is that it is placed above the ground level. One more point is the water coming from the gazebos pillars, intelligent…!
These umbrellas and the showering water have caught my eyes first in this stylishly furnished pool design. This is a perfect pool idea for your house backyard. The pots placed beside the lounges are really pretty and unique. Guarded trees in the side beds are giving a voguish shape to the pool.
Isn't it looking like two hearts attached together? Whatever is the idea, it has certainly worked well. The composite pools are always a big attraction. The sequence lower and upper styled plants beds are making the whole setup stand out. Lounges under umbrellas and the sitting arrangements are giving a space to get rest and have delicious meal after getting soaked.
A shady pool under these big beautiful trees is giving and ideal glance. The whole setup is giving a unique look to a very common backyard. Especially pool is the real attraction. Lounges and sitting arrangements are putting spices on this professionally made dish. This is a quite affordable attraction that you should have for your house backyard.
What a bright weather and how brightly it is effecting over the whole pool and the surroundings. The color scheme used in the following shown idea is making it glamorous and bright. Water lounges are welcoming us to jump in without any fear. Side plants beds are working like a beautiful scaling beside the pool and making it more attractive.
Mind Blowing Ideas for Patio Hot Tubs